A Summer's Tale
Helios, the sun, like a merciless cyclops
looks down on the earth with its one eye
scorching the land, burning it with flames
and the people cry out for rain.
Aristaios taught the people
how to propitiate Zeus and call upon Herakles
for the offenses against Dionysos,
for relief from the heat of the dog-days.
Adonis, at the tusks of a boar,
met his end, his short beautiful flowering
brought low by jealousy in these days,
his lament never-ending afterwards.
Hermanubis, son of Serapis
and of Isis-Sothis, in these days
brings Sirius to align with the sun
and herald the inundation of the Nile.
And in a far-off island of the North
the people look to the sky and see
the eye of Loki looking down
upon them, his intentions inscrutable.
But what of Antinous? What does he
in his beauty and his divinity do on this day?
He teaches devotion, the heart missing
from Aristaios' ritual and the offenses to Dionysos.
He teaches perception, of nature
and the way the animals move as equally
as the stars in the night's sky
as they appear on the horizon at dawn.
He teaches the hardest lesson of all:
no matter what is known, what is unknown
looms large, and can hold the worst of luck,
which must be endured to be overcome.
For no one would wish even a cyclops
to be blind if it would make life easier
for millions on the face of the earth–
the gods' eyes are not our own.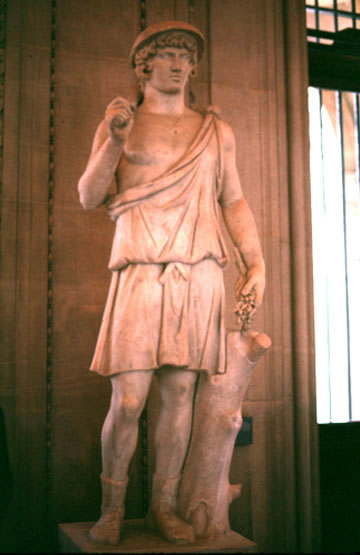 *****
Hail to Aristaios! Hail to Adonis!
Hail to Zeus, Herakles, and Dionysos!
Hail to Hermanubis, Isis, and Serapis!
Hail to Loki! Hail to Helios!
Hail, Hail, Hail Antinous!