The particular syncretism of Antinous for the day is one known from a single statue (of which the date is uncertain), one from the Louvre in Paris, that has a verified existence back to the early 17th century. Whether it is a late copy/creation, or something from the original cultus, is difficult to say. It started its known existence in Rome, so it could derive from an original late antique context, but it is far from certain. This is the portrayal of Antinous as Aristaios.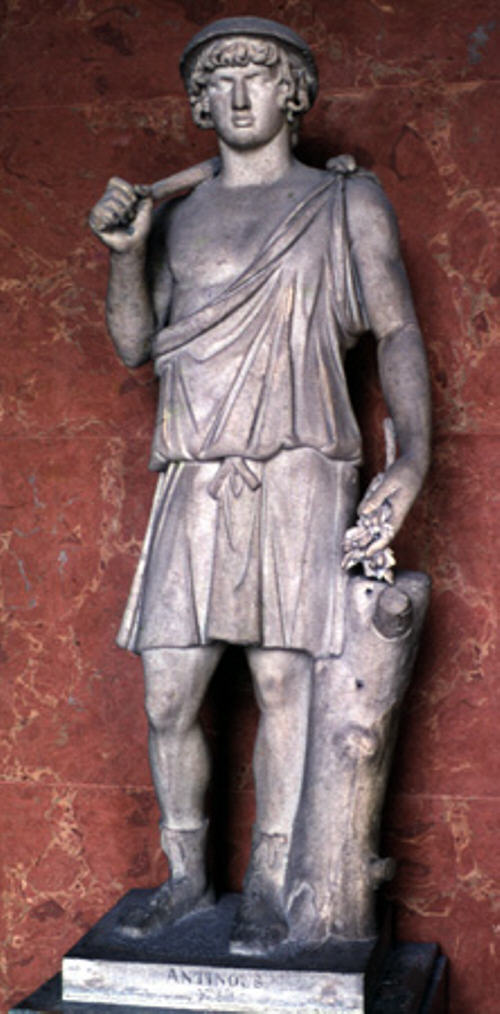 One of the things which I think gives credence to the possibility that this is an original late antique statue is the portrayal of Antinous, and particularly his style of dress, which is exactly that of the Antinous-Silvanus relief from Lanuvium (which was not discovered until the early 20th century). However, given that the style of dress presented in both of these sculptures isn't something that was ever "unknown" or uncommon, that's a very weak basis for suggesting that the Antinous-Aristaios must come from antiquity.
But, we are on much more secure ground when examining this possibly syncretism when we take into account a series of coin issues, mentioned by Hugo Meyer, from Bithynion-Claudiopolis which depict Antinous as Aristaios likewise.
So, who was Aristaios? His story is long and complex, but a few highlights of it wouldn't hurt in drawing the comparison between Antinous and the hero-god. He was the son of Apollon and Cyrene, a woman (or possibly a nymph) whose name is the eponym of a city in North Africa, where she was seduced by the god, who had taken the form of a wolf to pursue her. Apparently, she had impressed Apollon by fighting with a lion–which is, of course, something that Antinous was also famous for doing. The child Aristaios was famed for inventing a number of things, including bee-keeping and cheese-making. However, one particular feat with which he is credited is the sacrifices instituted to Zeus in order to appease the god and deflect the worst disasters associated with the dog-days of summer, the period from late July to mid-August which is held to be the hottest time of year (and not much has changed in several millennia in that regard!). Very interestingly, the lion and canid (dogs and wolves) symbolism of Aristaios' particular parentage plays itself out in other figures associated with the dog-days, including Hermanubis–whose festival fell on July 25, around the heliacal rising of Sirius in the ancient world–and also Herakles' fight with the Nemean Lion. (Both of these occasions are discussed in David Gordon White's Myths of the Dog-Man.) Antinous is associated with Hermanubis in a particular tomb painting from Antinoöpolis; and of course, the lion hunt of Hadrian and Antinous further associates him with Herakles. For all of these (and other) services to wider humanity, Aristaios was taken to be elevated to the level of the gods, and his benevolence was widely honored and remembered. His marriage to Autonoë resulted in various offspring, including Aktaion (better known under the Roman spellion Actaeon), the cousin of Dionysos who was turned into a stag and devoured by his own hounds for violating Artemis' privacy. Aristaios became associated with Dionysos as well, as one of his followers. He had the epithets Agreus ("hunter") and Noumios ("shepherd"), like a variety of other deities (e.g. Dionysos–particularly as Zagreus–Hermes, Pan, etc.), and his own name means "most excellent."
In the wider constellation of Antinoan symbolism and associations with his various syncretisms that we have already covered in this series, this particular syncretism certainly seems to have a "ring of truth" about it, that makes me suspect that some people in the ancient cultus of Antinous would have experienced the positive aspects of Antinous–perhaps even particularly in relation to the dog-days–as similar to the life-enhancing gifts and favors of the hunter/shepherd Aristaios, perhaps even particularly in the city of his birth in Bithynia, despite the statuary evidence being somewhat inconclusive.
It is truly sad that more modern polytheists of the antique Mediterranean disposition do not remember and regard Aristaios more highly and more frequently in their own cultic practices, as his benevolence and example–particularly in light of things like global climate change in the present world's period–could be extremely useful and inspiring for our future well-being and survival. I do have a poem to him in The Phillupic Hymns, but I have not seen much else–if anything at all–honoring him in the context of modern polytheism, reconstructionist or otherwise.
So, may the many gifts and honors of Aristaios to humans, and of the gods to him, be remembered and praised, and likewise also with Antinous!