We come now to a figure that seems one of the most natural to compare with Antinous, and who in the late nineteenth and early twentieth centuries was often mentioned in the same breath as Antinous: Ganymede. And yet, one of the things that is most distinctive about the syncretism between Antinous and Ganymede is that we have absolutely no cultic basis for suggesting it, although it does appear in a great deal of legitimately ancient literature; however, all of that literature was either written by Christians hostile to Antinous' cultus, or by the satirist Lukian of Samosata, who was not very keen on several "upstart" cults from Asia Minor in the second century CE.
There is one statue that is thought to be Antinous as Ganymede, but like so many others we've examined in this series, it is a late restoration, with specific Ganymede attributes given to it. That is the statue of Antinous now in Port Sunlight in the United Kingdom. It has been known since the late eighteenth century, and was found near Rome, but the restoration took place after that on a completely arbitrary basis.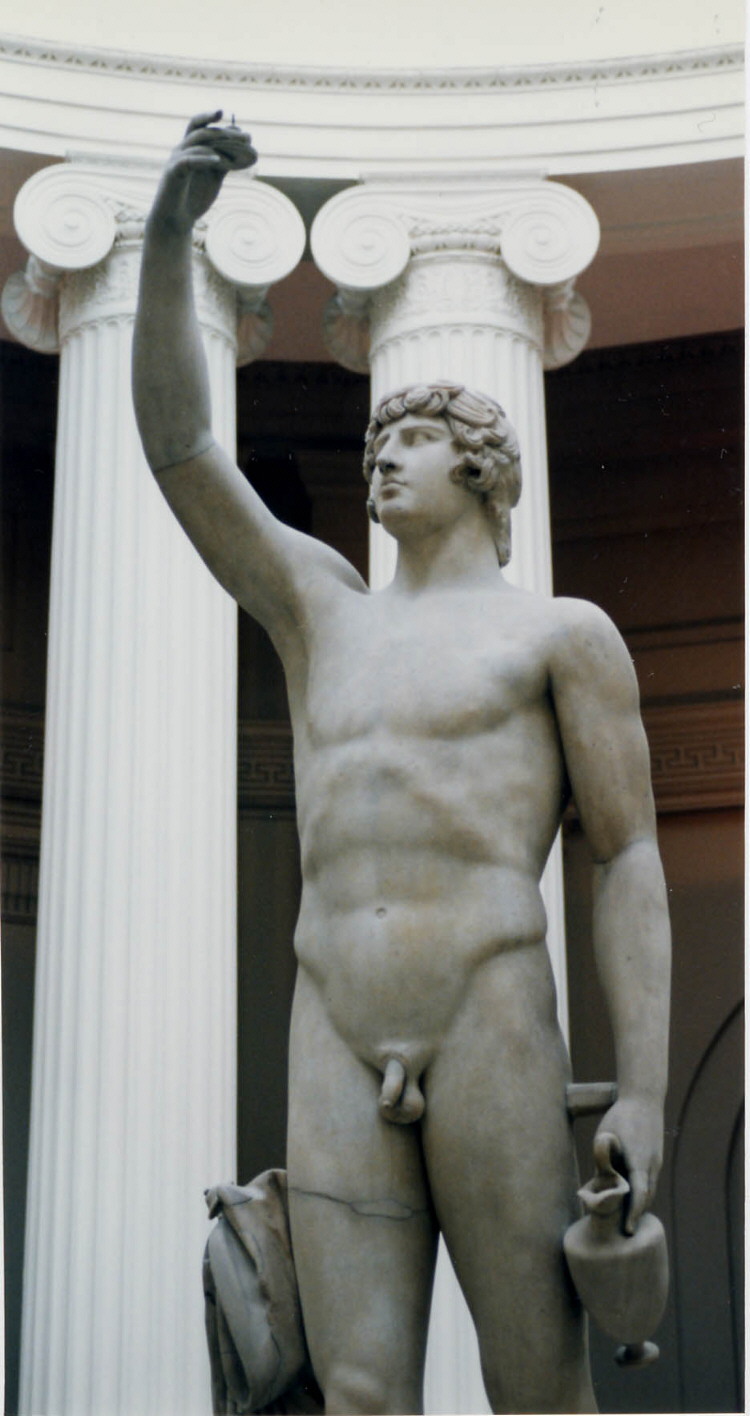 In the late nineteenth and early twentieth centuries, many of the Uranian Poets used imagery of Antinous and Ganymede in close proximity. Mark Andre Raffalovich's poem "Ganymede of Ida" from 1886 mentions Antinous, as well as various other "flower heroes" (whom we will deal with in the next installment of this series); Montague Summers' poem on Antinous also mentions him, and John Addington Symonds' essay on Antinous also says that various statues from the ancient world represent him as Ganymede–but, of course, he was not aware of the restoration of the statue pictured above to have that aspect deliberately.
In their critical remarks about the cultus of Antinous, the Christian writers Tertullian of Carthage and Tatian the Assyrian both mention Ganymede as a disgraceful example of apotheosis in close proximity to their discussion of Antinous, but they do not directly compare or equate them. However, Clement of Alexandria's Protrepticus, Eusebius of Caesarea's Preparatio Evangelica, and Prudentius' Contra Orationem Symmachi all compare Antinous and Ganymede directly…and not in a favorable way. They emphasize that Ganymede was somehow demeaned and de-manned by his treatment from Zeus, and suggest that likewise Hadrian's public affection for Antinous in life and death was equally undeserved, perhaps even undesired, and unmanly for both parties. However, the wider dialogue from Christianity on Antinous is universally critical.
The satirist Lukian of Samosata also rails against Antinous in the form of Ganymede in at least one piece, and possibly in two more (as well as having further allusions to Antinous in other pieces through the Egyptian magician Pancrates, e.g. Philopseudes). In The Parliament of the Gods, various "upstart gods" are railed against by Momus in the following manner:
Momus: It was you, Zeus, who bgan these illegalities and caused the corruption of our body politic by cohabiting with mortal women and going down to visit them now in one form, now in another. It has gone so far that we are afraid that someone may make a victim of you if he catches you when you are a bull, or that some goldsmith may work you up when you are gold, and instead of Zeus we may have you turning up as a necklace or a bracelet or an earring. However that may be, you have filled heaven with these–demigods! I do not care to put it otherwise. And it is a very ridiculous state of things when one suddenly hears that Hercules has ben appointed a god, but Eurystheus, who used to order him about, is dead; and that the temple of Hercules, who was a slave, and the tomb of Eurystheus, his master, stand side by side; and again, that in Thebes Dionysus is a god, but his cousins Pentheus, Actaeon, and Learchus were of all mankind the most ill-fated.
From the moment that you, Zeus, once opened our doors to such as they and turned your attention to mortal women, everyone else has copied you, and not the male sex alone but–what is most unseemly–even the goddesses. Who does not know about Anchises, Tithonus, Endymion, Iasion, and the rest of them? So I think I shall omit those incidents, for it would take too long if I were to pass censure on them.
Zeus: Say nothing about Ganymede, Momus, for I shall be angry if you vex the little lad by disparaging his birth.
Momus: Then am I not to speak of the eagle, either, and say that he too is in heaven, where he sits upon your royal sceptre and all but nests on your head, passing for a god? Or must I omit him also, for the sake of Ganymede?
But Attis at all events, Zeus, and Corybas and Sabazius–how did they get trundled upon us? Or Mithras yonder, the Mede, with his caftan and his cap, who does not even speak Greek, so that he cannot even understand if one drinks his health? The result is that the Scythians–the Getae among them–seeing all this have told us to go hang, and now confer immortality on their own account and elect as gods whomsoever they will, in the selfsame way that Zalmoxis, a slave, obtained fraudulent admission to the roster, getting by with it somehow or other.
All that, however, is as nothing, Gods. –You there, you dog-faced, linen-vested Egyptian, who are you, my fine fellow, and how do you make out that you are a god, with that bark of yours? And with what idea does this spotted bull of Memphis receive homage and give oracles and have prophets? I take shame to mention ibises and monkeys and billy-goats and other creatures far more ludicrous that somehow or other have been smuggled out of Egypt into heaven. How can you endure it, Gods, to see them worshipped as much as you, or even more? And you, Zeus, how can you put up with it when they grow ram's horns upon you?
Zeus: All these points that you mention about the Egyptians are in truth unseemly. Nevertheless, Momus, most of them are matters of symbolism and one who is not an adept in the mysteries really must not laugh at them.
Momus: A lot we need mysteries, Zeus, to know that gods are gods, and dogheads are dogheads!
So, we see here that Zeus is not free from direct censure, nor is Herakles, Dionysos, Attis, Endymion (all of whom we've covered), Anubis and any number of other Egyptians and syncretized Graeco-Egyptian deities, Mithras, and others.
In Lukian's further mentions of Ganymede, in two episodes from Dialogues of the Gods between Zeus and Hera and Zeus and Ganymede, the admission of Ganymede into the halls of Olympus is either disputed as causing trouble between the king and queen of the gods, or in the latter, Ganymede is portrayed as a stupid and unfit-for-immortality individual. Not very flattering…and, very possibly, a further allusion to Antinous. But, then again, we know Lukian was not a fan of Egyptian religion generally, nor of new cults like that of Glykon either.
Ganymede was the princely son of the Phrygian king Tros and a daughter of a river-god; this Tros was the founder of the great city of Troy. Ganymede excelled in many pursuits—especially hunting—and was of beauty that delighted everyone, and Zeus was "set on fire" by the sight of the boy's thighs. While hunting near Mount Ida, Zeus abducted Ganymede by taking the form of the eagle who could carry his thunderbolts (not the first or last time bird-transformation would be used by Zeus to effect and erotic encounter, e.g. Leda and the swan and others, which lead to the conception of the Dioskouroi), to the consternation of the boy's tutors and guards that accompanied him everywhere, and took him to Olympus. There, the beautiful prince was made cupbearer to Zeus, replacing the daughter of Hera, Hebe, much to Zeus' wife's frustration. Ganymede would mull the red nectar in a golden bowl and serve it in a pitcher of gold to the gods. Despite Hera's rage, the other Olympians delighted in the boy, and he became good friends with Eros, who cheated the boy into dust at dice. Tros was incredibly saddened by his beloved son's disappearance, but Zeus repaid him with wonderful divine horses and a golden ever-fruitful vine, with which the king was pleased. It is said that Hera's lingering anger caused her to stir up the strife that resulted in the extinction of Ganymede's kin, namely the Trojan War. Both the constellation Ganymede/Antinous (beneath Aquila, the Eagle) and Aquarius (the water-bearer) were so named for this encounter (and in the past, much has been made of this–that the Age of Aquarius is therefore the Age of Antinous!), and the nearest moon to Jupiter is also called Ganymede. Ganymede's story is told or referred to as early as Homer's Iliad in 700 BCE, and in the works of Sophocles, Euripedes, Apollonios Rhodios, Apollodorus, Diodorus Siculus, Virgil, Ovid, Hyginus, Lukian, and others.
The term "Ganymede" came to mean immediately a boy-lover, and was the Greek equivalent to the Latin catamitus/catamite. Later centuries in Europe would witness poetic debates between Ganymede and Hebe (or Helen of Troy), the champions of homoerotic and heterosexual loves respectively. This eagle imagery in the myth may have had further echoes in Christianity, where the Beloved Disciple John was portrayed as the much younger intimate of Jesus, reclining against his chest in the Last Supper narrative of the Fourth Gospel, and the eagle becoming the symbol for John the Evangelist and his work which philosophically was the "highest flying." Even the great Florentine poet Dante, in his Purgatorio, uses the image of the fiery eagle of Zeus carrying Ganymede up to Olympus to speak of his sleeping ascent of the mount of Purgatory through God's direct intervention—a powerful image playing upon the devoted and faithful Christian life as painfully-burning, public, shameless, and even unnatural love between man and God.
In my own previous theological writings, I have placed a great deal of emphasis upon Ganymede as an important figure to understand in terms of Antinous' overall mythology and interpretation, and I would still suggest that he is; though, on closer inspection, it is interesting that outside of the idealizing poetry and essays of the Uranian movement, the connection between Antinous and Ganymede is only encountered in the critical gaze of both pagans and Christians of the early centuries after the beginning of Antinous' cultus.
Nonetheless, may honor and adulation heretofore accompany Ganymede's passage to the heavens by way of the eagle of Zeus, and may Antinous likewise ascend to the heavens with the phoenix of Hadrian!