I'm either extremely slow to the punch (or perhaps more appropriately "punch bowl," as it were), or extremely stupid.
I have several ongoing intellectual and spiritual obsessions, and I'm often pleased to find that they cross over at some point with one another. Since I was about twelve, when I first heard about the "holy grail," it's been one of those obsessions. I had not even seen Indiana Jones and the Last Crusade, nor the parts of Excalibur that dealt with it, nor Monty Python and the Holy Grail, nor had I read any of the Arthurian legends that dealt with it; but, it started appearing in my dreams. I started looking into these matters more fully beginning at age fifteen, and have not really stopped since. So, that's been more than twenty years.
And, Antinous has been a rather constant companion and preoccupation of mine for the last eight and a half years at this stage. Though I found out about him in 1998, and had various chances to make a connection with him for several years after that, it wasn't until June of 2002 (after about nine months of preparations via other deities and possibilities before June) that he finally "arrived" and persisted in his enthralling of my attentions. One of the essays I wrote in those early days about Antinous was on my perceived connections between Antinous and various grail-seekers, and how the grail quest is fundamentally one that has to do with youth and the power and wisdom of youth, and the expectation that "the elders" will find their regeneration in the actions of youth, but they're somewhat doomed to be disappointed. It's not a bad essay, and it will probably appear in Studium Antinoi: The Doctor's Notes Volume Two in a few months' time, if all goes well.
So, having written on this topic previously, I'm somewhat surprised that it took me THIS LONG to piece together a few more common threads of these two spiritual and intellectual interests.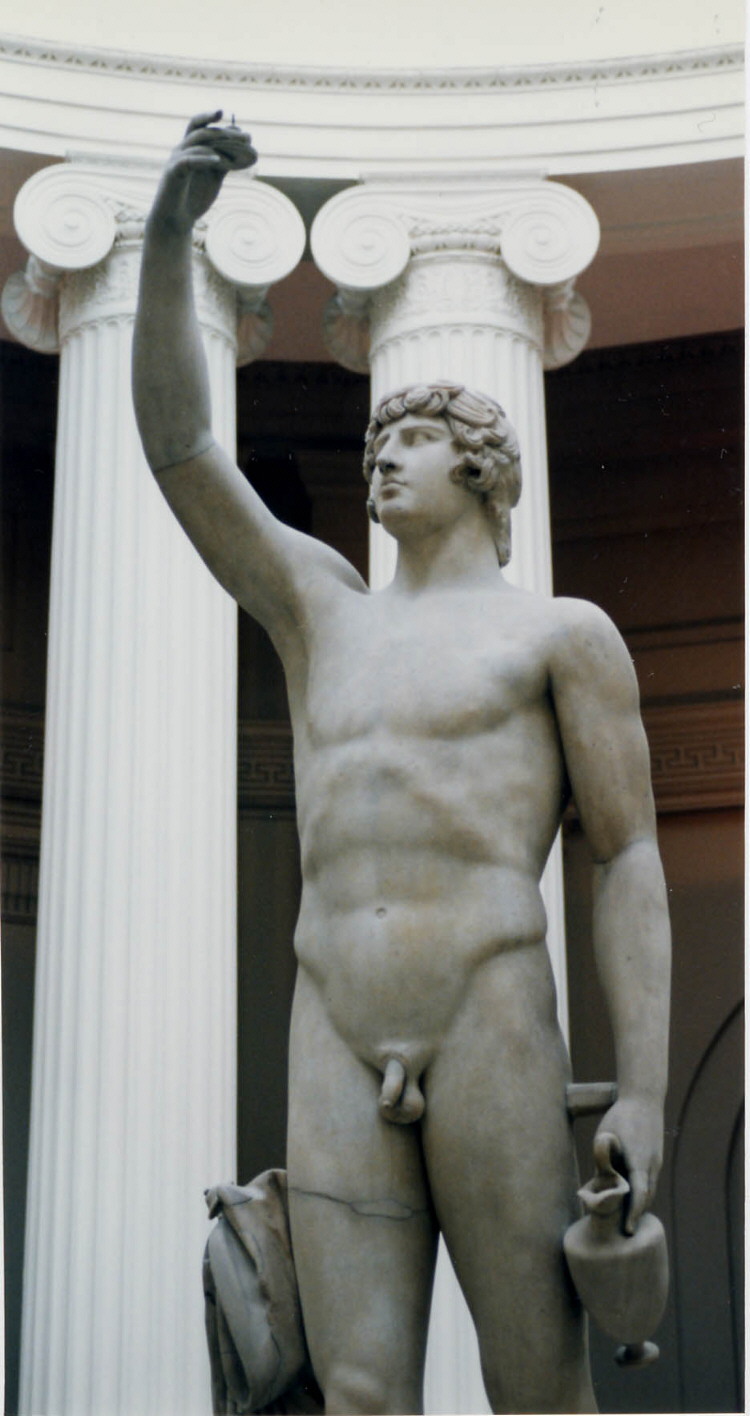 Though his syncretism to Ganymede is not a cultic one, the idea of Antinous as a "cup-bearer" of the gods and therefore of the ambrosial nectar of immortality places him into close symbolic connection with the wider grail tradition; however, it is not the uniqueness of the vessel itself that is of major importance, it's what contains it, and then only secondarily who bears it. This is shared somewhat with the implications of the Christian grail tradition, where the physical artifact of the grail is not nearly as important as what it contains–the wine turned into blood from the Last Supper, and some of the actual blood from the crucifixion of Jesus. The bearer of the grail in these traditions is an important and select (or even "elect") bloodline with a lineage all the way back to Jesus through Joseph of Arimathea, and so forth. But, the Celtic traditions from which the grail mythos originally derives is a very different story: it is usually the vessel itself–whether a cup, a cauldron, or a sacred well–that is the important item, and whatever comes into contact with it becomes magical or life-giving by association.
The grail-bearer, in nearly every iteration of the tales associated with it, is female, which has lead Joseph Campbell and a variety of Jungian interpreters (who are very popular in modern paganism) to associate the "feminine vessel" with goddesses and femininity more generally. This ignores, of course, that in a sizeable number of instances in Irish and Welsh sources of the grail story, the owner (and, by implication, the "bearer") of the grail is male–the Dagda's cauldron, Bran's cauldron, Cú Roi's cauldron, and Cormac mac Airt's "cup of truth" are just some of the examples. The gender essentialism that goes into the assumptions that anything which is a "vessel" is therefore feminine because it is a "pseudo-womb" (which further suggests that women are only useful insofar as they are "holders" for the male seed or for children, rather than in any way active contributors to the mix) is something that is not very gender-affirming, in my opinion, nor does it do anything other than make heteronormativity a necessity of all spiritual activity, ritual, and symbolism. Sorry, not really interested.
I'm therefore drawn to the Welsh version of the French grail legend, Peredur ab Efrawg, based on Chrétien de Troyes' Perceval, Ou Li Conte del Graal. Many aspects of the Welsh version differ from the French, and may in some instances incorporate some pre-Chrétien elements. One such difference is that the female "grail-bearer," whom the hero Peredur feels attracted to, turns out not to be female at all, but instead is Peredur's shape-shifted male cousin, who appeared in order to entice him into completing a quest that will restore the family. The grail, in this case, as well as what was in it (a dish with a bloody severed head!), was utterly irrelevant, and in fact not even an object of much interest; the key lied in who was carrying it. There is also the Irish version of the Perceval story, known as Eachtra an Amadán Mór ("The Adventure of the Great Fool"), which features amongst its various episodes (none of which seems to be interested much in obtaining the grail) a part in which the Great Fool falls in love with a young man that he brings back to life, and who subsequently is killed again in the ensuing adventures. This certainly gives one pause, when the female lineage responsible for bestowing the grail's mysteries upon the youthful male initiates are called "Grail Queens"!

But, this brings us back to Antinous, as the Ganymede-like bearer of the cup of immortality. And, to put it rather tritely, I'm rather persuaded in my own circumstance to suggest that it isn't a question of Antinous and the grail, so much as a matter of it being more aptly that Antinous is the grail, or at least he can be. It is not what he bears or what he pours, or what he carries, that is important; it's him, and the fact that he has chosen to serve some of us at the feast (devotionally speaking). And though it would appear that those who serve are subordinate to those who are being served, it is not the case at all–we who are being served are privileged and very fortunate indeed to be the recipients of such hospitality and care. It feels to me as if there is a potentially deep lesson in this, and a further valence to our acclamation Haec est unde vita venit, "This is where life comes from."
As ever, the grail quest hinges upon a question: for whom does the grail serve, and (in our own circumstance) to whom does Antinous serve it? Ask that question, and you'll no doubt get the answer quite presently: YOU.