Today in Neos Alexandria is a festival in honor of Set killing Apophis/Apep, the malevolent serpent that besieges the Barque of Re each day and night as it descends into the underworld. For a variety of reasons, this festival is appealing and appropriate to discuss in the context of this blog, and so I'd like to do so here, not only as a way to mark the festival, but as a way to honor Set, a deity who is far too often misunderstood in modern Egyptian polytheism, as well as wider modern paganism.
I heard a really excellent presentation on Set by Tony Mierzwicki at PantheaCon a few years ago, and since then (though occasionally before then as well), Set has loomed large in my own personal pantheon. At PantheaCon 2011 next month, in fact, I'll be portraying Set in a ritual drama, which should be very interesting indeed on a variety of levels…The image below is a devotional statue of Set that I personally have. For being as misunderstood and as often maligned as Set is, it is also nice that there are as many devotional statues (whether the producers of them intended them to be or not!) that are available of him, in various sizes, styles, and decorative color schemes.
Despite Antinous' syncretism to Osiris, the ostensible "enemy" of Set, there are a variety of Antinoan connections to him that I perceive, whether or not they are stable and viable or merely coincidental. One of Set's main colors is red, which was a somewhat "taboo" color to the Egyptians as a result after Set's role was downplayed or even demonized, which occurred at various periods in Egypt's history in which foreign powers came to dominate the country due to Set's association with foreigners. In particular Egyptian texts relating to magic, the incense/essential oil storax, which derives from trees originating in Asia Minor, is associated with him. It is my own experience that this fragrance, which is also associated with chthonic Hermes and Dionysos in the Orphic Hymns, is also connected to Antinous, due to those syncretisms, but also because Antinous originates in a heavily wooded area of Asia Minor. Furthermore, a set of syncretisms has emerged in the overall schemata of the Serpent Path involving the Treískouroi of Lucius Marius Vitalis, Antinous, and Polydeukion, and their respective syncretisms to Set, Osiris, and Horus, which has emerged as a result of my own experiences and research. Imagine this relationship between them arranged in a left-to-right order, similar to the image below, and that forms the base three nodes on the Antinous glyph given in the diagram for the Spell Against Homophobia, and which is important for the remainder of the understanding of this aspect of the Serpent Path.
Set is essential to the running of the everyday necessities of the Egyptian cosmos; without him, Re's Barque would be destroyed, and Set is the only one capable of doing the necessary defending to keep it safe. This, despite his chaotic nature and destructive tendencies otherwise. I think there is a very important message in this. And, we see that this message goes very far back indeed into Egyptian thought, for there are images of the combined two-headed form in which Horus and Set are united as one. Egyptian religion–and polytheism more generally speaking–is not a dualistic religion in which there is an absolute good and an absolute evil; instead, deities can have motivations and actions that may seem positive or negative at different times, depending on one's own position. Even the most "good" gods have their selfish moments and capricious motives; and even the most "evil" gods have their necessities and their roles to play. I suspect it may be this fortunate combination that creates the possibility of a particular PGM IV.154-285 text in honor of Set suggesting that the god descends in the form of a falcon and beats his wings against the devotee.
An interesting phenomenon, however, is the demonization of Set that comes about at various times. In the story of Osiris and Set, Set becomes the "bad guy," and he gets connected to a variety of creatures in this process, including the sturgeon or oxyrhynchus fish which was responsible for devouring Osiris' phallus; indeed, the unidentified (and most likely composite) "Set animal" may have its "V" shaped ears from this fish's fins. But in these periods of demonization, Set is eventually linked to Apophis in a manner that suggests both are destructive and horrific, and it is through this connection (I believe) that Graeco-Egyptian magic often refers to Set through the Greek syncretism of Typhon, the monstrous and quasi-serpentine storm and volcano creature defeated eventually by Zeus, Aegipan, and the other Olympian gods. The connection of Set to the desert, aridity, and storms I think also creates the occasionally encountered notion that the Hebrew god, Iao Sabaoth, was in fact Set.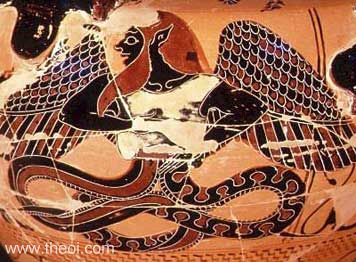 Something attributed to Set additionally, however, is what can only be termed "queerness" in the present context. Though he is said to have various wives (including Nephthys, Neith, Anat, and Astarte), Set also seems to be one of the only Egyptian deities consistently linked with sexual transgression. His interest in Horus is not merely as a rival claimant to the throne, but apparently it is also erotic. And, in the end, it was Set who ended up violated by Horus, who put his semen on some lettuce that Set ate, and this ended up being not only ingested by Set, but giving birth to a new deity within him, which then emerged from his mouth. In The Phillupic Hymns, I had an ongoing joke in my usage of the term "Typhonic intercourse" to refer in several poems to anal sex, which seems to be one of the associations that Set had as well. Given that the Egyptians were not opposed to anally raping defeated enemies and foreigners, it makes sense that this activity is associated with Set, who had a persistent connection to foreigners.
I've also wondered lately about the connection of Set to donkeys in a variety of contexts. (Yesterday, January 14, is the medieval Christian Festum Asinorum, or "Feast of the Asses," in honor of the Holy Family's flight into Egypt; and as donkeys were associated with Jesus on other occasions as well as a sign of his divinity, and likewise with Dionysos, I can't help but think that this fortunate coincidence this year might have something to do with these musings on my part…!) One particular place I can think of where this symbolism might come up is in Apuleius' novel The Metamorphoses, often known in translation as The Golden Ass. (Lukian of Samosata is often attributed with the authorship of a different version of this same tale, Lucius, or The Ass. And, interestingly, Apuleius' Apologia and defense against the charges of magic that were brought against him includes, amongst other things, quotations of Hadrian's sayings and poetry!) Through a series of accidents somewhat reminiscent in certain respects of "the Sorcerer's Apprentice" story, the protagonist of Apuleius' novel ends up transformed into an ass, and in this form he is abused in various ways, including sexually. His eventual salvation is through the favors of, and eventual initiation into, the cult of Isis. Is there more than just a fable involved here, of the transformation of one's bestial and even "asinine" nature into a more mature, human, and divine spiritual nature? Is, in other words, the shift from "ignorant" (and perhaps even oppressive and irresponsible) magical usage into a devotional, mystery-based religiosity being symbolized through the "redemption" of the Set donkey into an initiate of Isis? I am not an Apuleius scholar, so I cannot say for certain, but I think it is an intriguing possibility, in any case. The image of Set, as a donkey, bound before Osiris by Horus, found at the Temple of Dendera, is given below (please excuse the fact that I could not find a separate photo of it, but instead only the cover of the book below).
I can think of one further bit of relevance of the story of Set and the defeat of Apophis that may have some relevance today. The world of astrology was thrown into an uproar this week–an uproar, I should say, by all except for those who actually understand astrology–by an astronomer's "revelation" that according to sidereal astrology, the traditional twelve constellations of the Zodiac have shifted over time and no longer align to the dates given in Western astrological horoscopes; further, there is now a thirteenth sign, Ophiuchus, which should be inserted between November and December. The Wild Hunt covered this story quite admirably recently, with many links given. This is yet another attempt by scientists to "forever discredit" any credence in astrology, but it also simply demonstrates how unaware the scientist involved is of how astrology works. The sidereal zodiac, used by Hindu astrologers, has shifted in the manner that the astronomer describes, but the western astrological tradition has not used the actual positions of the constellations to determine where planets in a person's birth chart fall. Thus, the new ophidian constellation of Ophiuchus has, in essence, been stomped on and destroyed by those who actually know what they're talking about in relation to astrology; if this atheist skeptic scientists can be thought of as the cosmic serpent who has attempted to destroy the "order of the heavens" represented by the western astrological tradition (and, recall, Hadrian was an ardent devotee of astrology), then the Set at the head of the Barque of Millions of Years has met the challenge and slain it easily and without difficulty. Dua Set!
As a final set of thoughts for the day, perhaps we need to honor and propitiate Set a lot more in the coming decades. There is an asteroid known as Apophis that is due to possibly come close to, and even impact, the earth in the next two decades. If it passes within a particular window of space at a given date, it will most certainly do so, and the impact with the earth that will result will be cataclysmic, to put it lightly–a planet-killer phenomenon possibly not seen since the dinosaurs. Lest the earth then be the sole reserve of insects and bacteria, perhaps we need Set, and the best possible minds in science working on a Set spacecraft or missile system, to avert Apophis' impact with the earth. One can only hope…
Serpents are often positive and even protective figures in Greek, Roman, and Egyptian mythologies; and yet, some of them are chaotic and destructive, dangerous and deadly. It takes something just as cunning, just as sly, and just as dangerous to combat such a menace, and Set is the god for the job every time. No matter how queer or reviled he might have been in the past, and no matter how much he may remain feared and distrusted today, he is utterly necessary for the system of the cosmos to work. Perhaps there is a profound message in this about queerness and queer peoples' contributions to the overall ecology of the modern world, both socially and biologically, that needs to be taken seriously as a theological matter. In any case, I hope to explore some of these issues further in the future, in next month's "Yes They Are! Meeting and Greeting the Queerest of Gods" ritual at PantheaCon, and in other cultic manners.
Today, praise and thanks to Set, the Red God of Storms and Spears, for his essential role in protecting life as we know it! Dua Sutekh! Khaire Seth! Ave Set!