We are now six days into the Megalensia festival. We have gone over its basic history, its main goddess, a related god, a divine androgyne associated with it, and a major ritual that was probably part of the proceedings from the mid-second century CE onwards. Today, we treat the main priesthood of Magna Mater, the galli.
The galli (as they usually appear in Latin–I misspoke the other day when I said they always appear in a masculine morphology in the ancient texts, as in Greek their plural is sometimes given as gallai, which is feminine) are one of the most famous ancient Roman priesthoods amongst modern pagans because of their extremity in terms of their devotion. This picture of the gallus (which is a tombstone) above graces the cover of Mary Beard, John North and Simon Price's Religions of Rome second volume; and the galli in general occupy a great deal of space and attention in the various publications that Randy Conner has produced on queer spirituality (including Blossom of Bone and Cassell's Encyclopedia of Queer Myth, Symbol, and Spirit). The importance of the galli as evidence for ancient spiritual roles for queer people cannot be overestimated–and yet, they were not the only such group in ancient Europe or the Mediterranean region, and while their spiritual status and their high recognition and profile does certainly exist, they are problematic for a few reasons. One is that they were not universally respected, and in fact their bearing and their rituals scared and dismayed many people, to the point that they were often suppressed or exiled from particular communities. (Indeed, Rome did not exactly welcome them, so much as having them as a necessity in order to accomplish their religio-political ends in terms of the Punic Wars.) And, as I said earlier this week, though they were certainly gender-variant, they are not transgender or transsexual as-such in terms of what we consider those terms to be at present, nor does their gender-variance necessarily encompass homoeroticism. So, here we have a situation in which they are certainly queer, but not in terms of being exactly in line with various modern visible queer identities or categories (i.e. gay/bisexual or transgender/transsexual).
Let us note some of the characteristics of the cultus of Magna Mater in the gallus' portrayal above. In the upper right and left corners, you can see the musical instruments of Cybele's worship–cymbals, tympanum, and Phrygian double flute. The gallus' headdress has small plaques of Attis and Jupiter, and the pectoral also shows Attis; there are also long ribbons woven into the gallus's hair. In the gallus' right hand (on the left of the representation) is a branch for asperging–in essence, a "sprinkler"; while to the gallus' left, the flail of knuckle-bones for self-flagellation is placed. The container hanging in the lower right corner is some sort of cista mystica that evokes the overall mystery of the cult of Magna Mater–what does it contain? In some Dionysian festivals, it contained a representation of a phallus; in situations associated with Magna Mater, it may have literally contained the gallus' severed genitals. The bowl of fruit in the gallus' left hand is almonds, which grew from Attis' blood when he castrated himself. The particular style of the dress the gallus is wearing is also feminine clothing. Here we have, therefore, in short and visual form, a great deal of what the public cultus and practices of a gallus, and therefore the cultus of Magna Mater generally, summarized and exhibited quite plainly.
The above image is of an archigallos, a head of the cult of Magna Mater. Juvenal, who lived during the late first and early second century CE (and was thus contemporary with Trajan and Hadrian's principate), wrote a bit on a gallus in his 6th satire:
Look, in come the devotees of frenzied Bellona and of the Mother of the Gods. And in comes the huge eunuch–the one that the rest of the obscene gang must honor. Long ago he grabbed a bit of broken pot and sliced through his soft genitals, and now before him the howling crowd, with their tambourines, give way. His vulgar cheeks are covered by a Phrygian bonnet. Loudly he proclaims that the lady should beware the coming of September and its winds–if she does not purify herself with a hundred eggs and present him with her rich red, cast-off gowns so that any sudden calamity that threatens may pass into the clothes and she may make expiation for the whole year to come.
Here, Juvenal is satirizing not only the dubiousness (from the Roman viewpoint) of what Magna Mater's devoted priests must do, and the frenzy and general raucous behavior of the galli and their followers, but he's also attempting to suggest that the begging which these priests engaged in, and the suggestions this particular priest is making to a woman are not religiously legitimate, but instead he's doing it to simply be able to wear her expensive clothes himself once she dedicates them to the goddess for her future blessing, protection, and expiation. So, again, not a cult that was looked on well in polite society…
Another source from which a great deal of information on the rites of the galli, particularly in their initiation, has come is On the Syrian Goddess (De Dea Syria), attributed to Lukian of Samosata. Though he is talking there more directly about "the Syrian Goddess" (i.e. Atargatis), she was sometimes syncretized to Magna Mater, and thus it has been taken as further evidence for particular cultic details. It is uncertain, to some extent, whether Atargatis also had galli, or if these are in fact just the galli of Cybele; it is also very strange that Lukian, in this piece, chose to write in the Ionic dialect rather than a more contemporary style–it would have the effect of someone writing on Norse paganism today in Middle English. In any case, he reports that those who choose to be galli come forth during a ceremony (the dies sanguinis, "day of blood," happening in late March), remove their clothes, self-castrate with a sword, and then run through the city with their severed genitals, casting them into the door or window of some house or other, which must then provide the new gallus with feminine attire.
[I suspect there was a lot more to the matter than this...if someone is fully castrated, and has their wound cauterized, they cannot urinate for three days or else they would tend to die...a kind of devotional jog with cast-off genital party favors thrown into the crowd doesn't exactly sound likely to me after undergoing such an experience, but then again, they were probably very drunk, on devotion if not on wine, when doing this...!?!]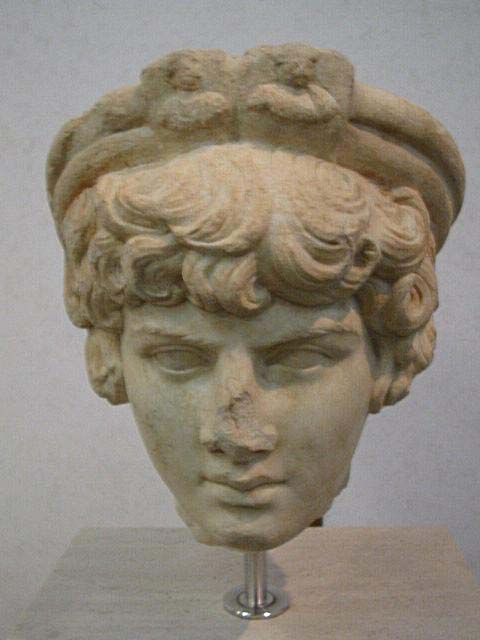 When I discussed Attis in the context of The Syncretisms of Antinous, I noted that Antinous is not portrayed as Attis, but instead as if he were a priest of Attis–in other words, as if he were a gallus. But, what does this mean, exactly? In absence of the remainder of the statue from which this head may have come (and, in absence of certainty even that this is Antinous), it's difficult to say. Like many of the relics of the ancient cultus of Antinous, it may simply reflect the idiosyncrasies of a local individual or group of people in Ostia who, for whatever reason, wanted to portray Antinous as if he were a gallus, in solidarity with themselves (if they were also galli), in the fantasy of Antinous being like them and as equally frenzied in his worship of the Magna Mater, or for any of millions of possible other reasons…
One should note, however, at this stage that Antinous was from Asia Minor geographically, but that Asia Minor is a rather large area and the divisions within it throughout historical periods are important to take into consideration. He was born in Bithynia, but of Greek (and specifically Arcadian)-descended parents. Bithynia is not the same thing as Phrygia, and while I'm sure the galli had been through Bithynia and perhaps even had temples or communities there, there is absolutely no reason to suggest (as some have) that Antinous' childhood religion was that of Cybele/Magna Mater.
In terms of my sub-theme in the Megalensia posts this week, of various issues in modern paganism in relation to gender inclusion and in particular on transgender inclusion, I would like to mention the Maetreum of Cybele once again. The head priestess of that community, Catherine Platine, is a trans woman who considers herself a galla. While the ancient galli were not straight-forwardly transsexual in the way that modern people can be, they were certainly gender-variant. This particular religion does remain to be reclaimed and revived for anyone who wishes to do it, and Rev. Mother Catherine Platine is certainly doing it! However, the suggestion by some people in the wider modern pagan community that, somehow, all trans women can only participate in the worship of Cybele/Magna Mater, and in doing so they're becoming like Attis, is a complete and total misunderstanding of both modern transgender people and these various ancient religious cults and the deities associated with them. Rev. Mother Catherine Platine sees her practice as a particular form of feminine spirituality, and I see no reason to disagree with her on that, or to suggest that it is only for trans women. Why other women can't recognize that trans women ARE women, as I've said before, and that trans men ARE men, is utterly beyond me…
Praise to the Magna Mater, to Attis, and to her sacred functionaries, the Galli and the Gallae, now and in the past, however they wish to define and represent themselves–and also hail to Antinous, devotee of Attis and Cybele!