I mentioned in my last post that I'd have something more serious to discuss later today–this isn't it, but it is a lot more serious than the previous post.
Firstly, I draw your attention to this post by Michael York on Patheos.com, called "Not All Gods are Deities." Michael York, as some of you may know, is most famous for his book Pagan Theology: Paganism as a World Religion, which I have very mixed feelings on–it's an interesting book, but it certainly doesn't live up to the main title (or even necessarily the subtitle); it's more like an excursus on "Here's how practically every religion that there is happens to be 'pagan'" than an actual discussion of pagan theology as-such.
In any case, this article he's written on Patheos.com (which is re-posted from elsewhere) is attempting to do some interesting things, but I am not sure that it really succeeds in doing so. The definitions he ends up using are pretty arbitrary, in terms of determining who of the "gods" (which seems to include all divine beings) are actually "deities" (which seems to be gods of a particular lineage, who are worthy of worship, and who are not opposed to the work or processes of the universe or other divine beings–especially those who are also "deities"). And, to be honest, I don't think it actually works at all. The story of Hera's opposition to Zeus' sons, particularly Herakles and Dionysos, is a case in point, amongst many other possibilities in just the Greek realm. Brigid (and her sons) and Lug (and his sons) don't really get along very well at all in Irish mythology. And though York is taking some cues in his formulations from Indian terminology and situations, I don't think one can quite generalize away the opposition between devas and asuras either, since many of the latter are re-births of those who were formerly gods, and who ended up gaining respect and even cultus in their own right.
And, of course, I have to ask about Antinous. Antinous is not "born from the earth" by any literal means (other than having been born on it, like all humans that we're aware of at this point!), and yet he was certainly reckoned to be a full-blown god, theos, in many locations in the ancient world, which is more than we can say for practically anyone and everyone else who was human and then recognized as divine who started out as a definite historical human personage (as opposed to heroes like Achilleus and Herakles, who were technically demi-gods–and the latter got to be reckoned as a god as much as a hero in a number of cases). "It is light – both symbolic and actual – that the deities have in common and what distinguishes them from the non-deific gods – including those that may be considered anti-divine." While I think it is easy to impute light and light-giving qualities to Antinous, he's never said to be the sun itself, nor is he syncretized to any deities who are "traditionally" solar in their primary aspect (though some, like Serapis, did get combined into some of the solar monotheisms late in antiquity); he does have a variety of lunar connections, but do we think of the moon as much as a "luminary" as the ancients did these days, since we know the light of the moon is simply reflected from the sun? So, as usual, Antinous sort of problematizes–or "queers," if you like–a lot of things that have been set up as theological near-absolutes.
So, I don't know…what do you think?
The other thing is that I just finished reading The Cults of the Roman Empire by Robert Turcan. This is a book I've known about for a very long time–ever since I first got into the worship of Antinous–but I've never read cover-to-cover. There's not a lot on Antinous in it (on which more in a moment), though there is a good bit on Hadrian and some of the religious things that took place during his principate, or with which he was connected (or, in one case, not connected–in his chapter on Mithras, Turcan says it is certain that Hadrian was never in any known Mithraic speleum, contrary to the charming story of such that is found in Marguerite Yourcenar's Hadrian's Memoirs to that effect).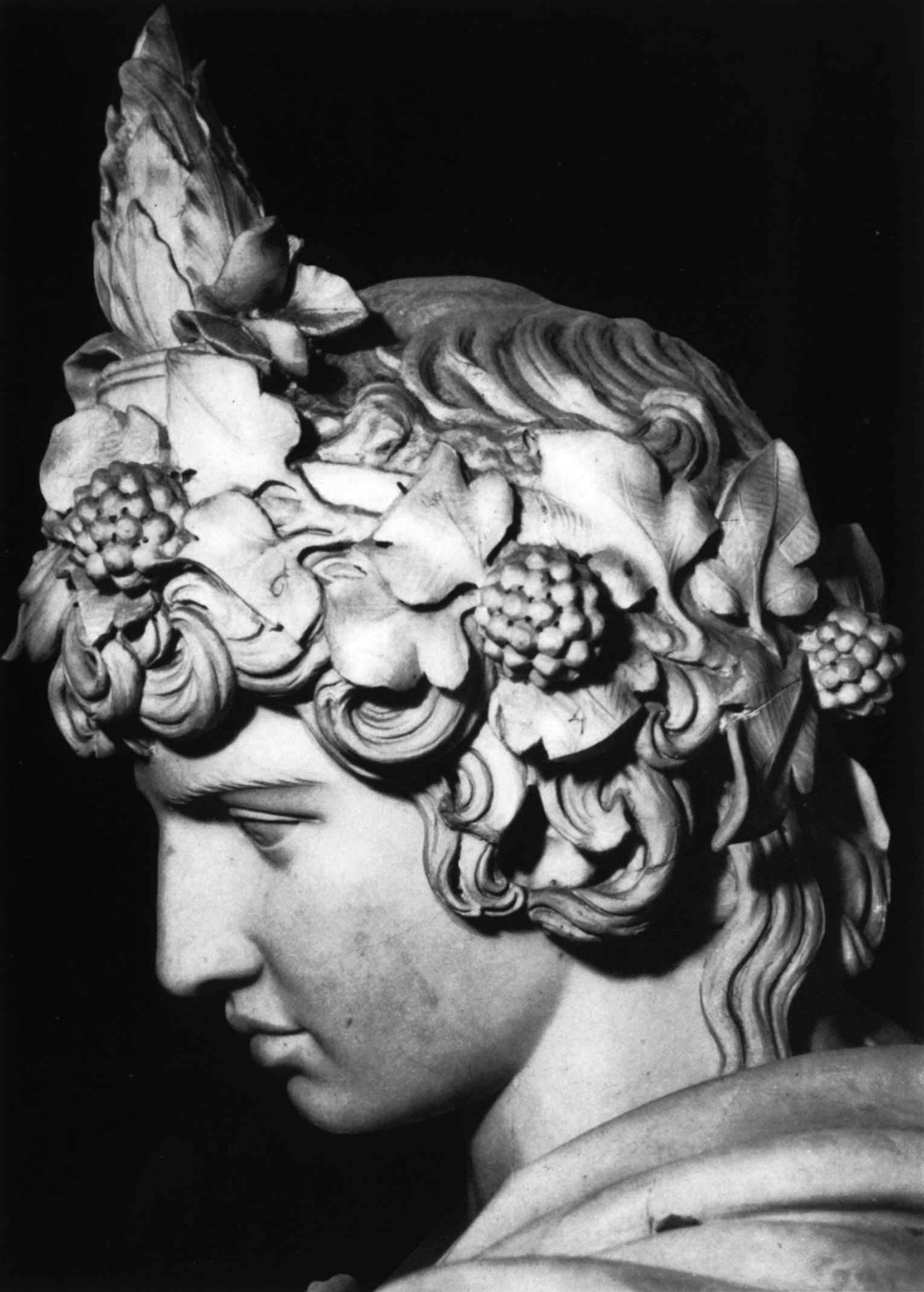 Turcan has a picture of the Braschi Antinous, now in the Sala Rotunda of the Vatican, similar to this view shown above, which he labels as "Antinous Harpocrates." This has confused and astounded me since 2002, as there is really no attested syncretism of Antinous to Harpocrates, and this figure is in fact quite clearly and specifically Antinous as Dionysos, complete with thyrsus, ivy and pine-cone crown, and even an indication of the liknon at his feet–in other words, everything to point toward Dionysos and nothing to point toward Harpocrates (e.g. nudity, a side-lock of hair, a finger to the lips, etc.). In some late forms of syncretism, Harpocrates was linked to Dionysos, but that doesn't make them at all the same or interchangeable by any means, and so I've always found this very irresponsible and questionable by a scholar who really ought to know better (not that such stops any scholars a good deal of the time, in any case).
The book is jam-packed with information on a variety of the so-called "oriental" cults, including those of Cybele and Attis, the Syrian gods (e.g. Atargatis, who is THE "Syrian Goddess," and Jupiter Optimus Maximus Dolichenus), Serapis and Isis (which is where the brief appearance of Antinous is located), Mithras, Dionysos, Sabazios, and even a small bit on Glykon, amongst several other substantial chapters. It is an excellent reference on all of these matters, and I can highly recommend it for that reason.
However, I was increasingly annoyed at some of the terminology and discussion used as the book went on–referring to the practitioners of various cults as "idolaters" seems rather sectarian for a scholar of the late twentieth century, and his use of the term was not a neutral one (as some modern pagan scholars like Michael York would prefer it to be!). This came to a read head in the final "Epilogue," which is relatively short (about 12 pages or so), and is entirely dedicated to determining why all of these cults–and the Roman traditional polytheist religion–were not able to survive when confronted by Christianity. He ends up arguing (as is fairly common) that all of these things didn't speak to people any longer (except some elite intellectuals), and had no theology at all, nor any attraction in comparison to monotheism. He also suggests that Christianity was the best religion to respond to the political situation of the single emperor brought about by Constantine, rather than the more logical conclusion that Constantine was looking to favor a religion that supported his singularity in its theology. His understanding of syncretism is essentially that it paved the way for widespread monotheism, either in suggesting that all the various gods were really different faces of a single god, or that it equalized the various deities as intercessors to an ineffable and ultimate god, which created the precedent for the cult of the saints. And, he also suggests that the humanity of Jesus was a major draw with which none of the suffering mystery-gods of the oriental cults could possibly compete. His one concession (but only very briefly, before he discounted it) of the utility of polytheism was in its pluralism, which he demonstrates by a quote from Symmachus' Report On the Altar of Victory 10:
What matters philosophy through which everyone seeks the truth?
One road alone does not suffice to attain so great a mystery!
[Nice statement!] However, he concludes that the pluralism and variety available in polytheism didn't make it more accessible, it just made it confusing and contradictory to people.
I find a lot of this logic to be specious at best. We really don't have enough information to suggest whether or not there was more content to late antique pagan theology, considering most of it has been destroyed by a certain other religion that was rather insistent in its unique authority and correctness, and the small excerpts and quotations and scraps of it which exist in later encyclopedists, lexicographers, historians, apologists, and the like, as well as the treatises whose titles we know but the actual texts of which have been lost may have held some truly excellent and wonderful possibilities for consideration. And, if the polytheistic system was so worthless and useless in attempting to address actual human needs and difficulties in this period, why then did Christianity, in a syncretistic move that it would excel at but then entirely disavow and ignore, have to absorb so much pagan material, figures, holidays, and practices into itself to make it palatable to its new and potential adherents if it was so complete and all-encompassing in itself? This he does not address at all…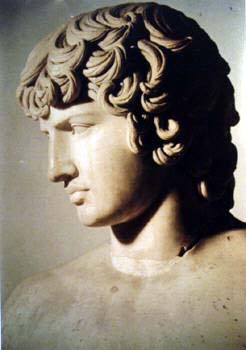 And, of course, I have to come back to Antinous once again. Was he not an "actual human," who was a psychopomp, and a sotér in the classical sense (just as Mithras and various others were), and who in fact could have done a great deal of what Jesus did in terms of his social and theological function for people in late antiquity (and, in fact, it seems he did for many people)? No, of course not–Antinous was a dirty homo, so he never could have fulfilled such a role. And no, Turcan doesn't say that, but I think the subtext of such an assumption (that would be perfectly consonant with the implied Christian triumphalism of Turcan's final chapter) is probably there under the surface.
So, I have to say, I'm pleased at the information in Turcan's book (and would still recommend it for that reason), but am not at all impressed with the very unprofessional and rather unfounded "conclusions" he reaches in the end about the inadequacy and illogicality of Roman polytheistic pluralism.
Have any of you read Turcan's book, and if so, what did you think of it?