I must resolve to get the provisional Ekklesía Antínoou calendar done in the next week…There are so many festivals, and a great many of them are new/innovated during the last year, that I'm losing track. I had a feeling there was something on Saturday the 23rd, and I was right, but I totally forgot about it, and was so involved in my work (for pay) and other things on that day that I didn't have a moment. So, my first priority here, before enumerating the various significances of July 25th, is to seek the pardon of Antinous and Poseidon for missing the Roman festival of the Neptunalia on July 23rd, and for missing the occasion to honor that particular syncretism of Antinous, mainly on the evidence from a coin from Corinth that syncretizes the two deities.
So, firstly, mea culpa for missing the occasion: Neptuno et Antinoo ex animo excuso.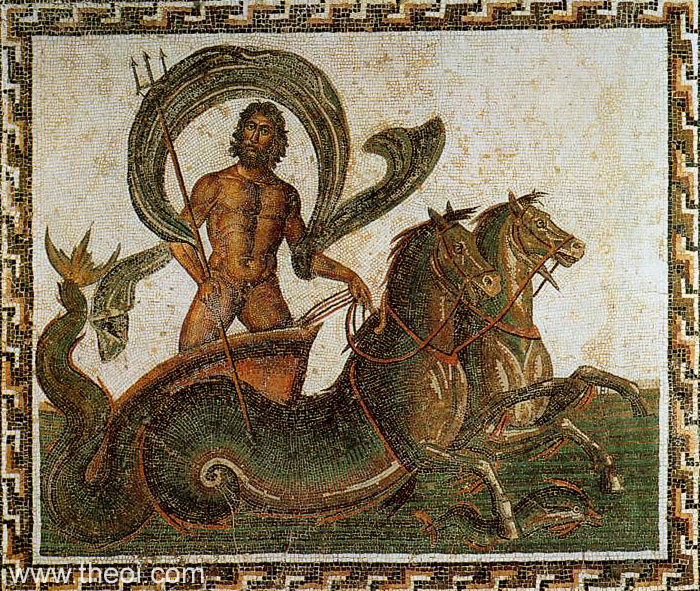 The Roman Neptunalia was one of the most ancient festivals, but little is known of what was involved with it. Neptune was one of only three Roman deities to whom bulls were sacrificed. As Poseidon was considered the inventor of–or, if not, then in various different ways connected to–horses, they also have connections with Antinous in a variety of ways.
I would like to write a short poem here for Poseidon, and honor him further in doing so by giving another image of him. While there are a variety of more traditional depictions of Poseidon that are available and no doubt familiar to many people familiar with classical history, religion, and polytheism (including the one above), I was particularly interested in the depiction I give below, which is modern and by an artist called James Lyons, which I think many of you will find appropriate to the present circumstances.
To Poseidon
By kingly ruler of the oceans' swell
Poseidon, god of shaking earth, I praise
great lover of Nerites in his shell
Rejuvenating is the salt-spray smell
as tired, sick, or lonely near it lays
by kingly ruler of the oceans' swell
Before the jealous Helios' dread spell
came birth of Anteros by their love's ways
great lover of Nerites in his shell
From sky to sea, Icarus–tragic–fell
yet drownéd Palaimon amidst waves plays
by kingly ruler of the oceans' swell
When not with Aphrodite he would dwell
the wing-deprived found friends in fish and rays
great lover of Nerites in his shell
Brave Theseus diving into deepest well
found brilliant fiery ring the god displays
by kingly ruler of the oceans' swell
Arcadians of Demeter do tell
of equine transformation fury's phase
great lover of Nerites in his shell
Like exhalation waves on shores expel
the flotsam of the mythic bygone days
by kingly ruler of the oceans' swell
great lover of Nerites in his shell
*****
So, all praises to Poseidon, and to Antinous as well!
As for July 25th itself, it is a variety of things. First and foremost, however, it is the beginning of the time of year known in many European languages as the "dog days" of summer. This is usually the hottest time of year, and the period in particular from the last days of July to the first days of August is often thought to be particularly difficult. (In Western Washington a few years ago, there was a day in late July in which the temperature was as high as 108 degrees Fahrenheit in some places, which is unheard of…!?!) The reason that there is a canid identification to these days is mythological, and is present in a variety of different contexts in Greece, Rome, and Egypt, as well as many other cultures. The heliacal rising of the star Sirius (already mentioned earlier this year on May 22, a day I described as belonging to "many Sancti," just as this day belongs to many gods!), which in ancient Egypt was connected to the rising of the Nile, occurred around this date, and thus the Egyptian new year often occurred at this time. The star Sirius was connected to the goddess Sothis for the Egyptians, though she did not have a specific canid connection. However, in later times, various other figures became connected to this period. Herakles was said to have slain the Nemean Lion on this date in some places, and it does take place in the zodiac period of Leo.
Additionally, it was a festival dedicated to Hermanubis in late antiquity, the syncretized form of Hermes Psychopompos and the Egyptian Anubis, who is pictured in the tondo of the Antinoöpolitan Lovers along with Antinous-Osiris, which you can see below. Thus, it seems likely that this may have been a holy-day that some people in the city of Antinoöpolis would have celebrated, including the gentlemen in the painting.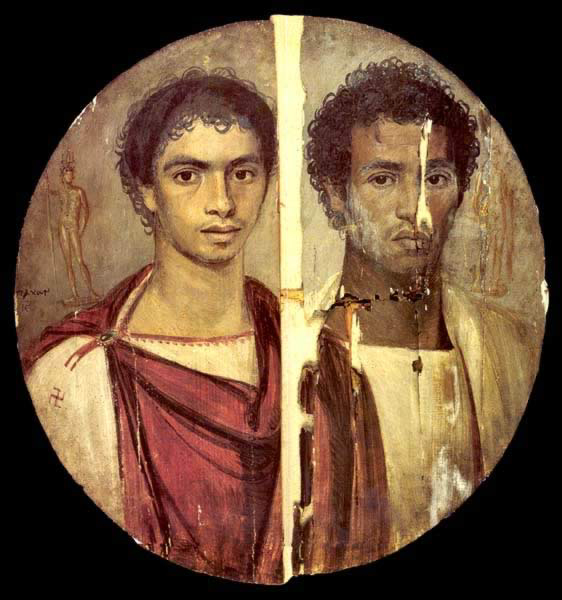 And furthermore, several other syncretisms of Antinous are recognized on this day, either because of their specific connections to it, or because their festivals were held in the vicinity of it in ancient Rome.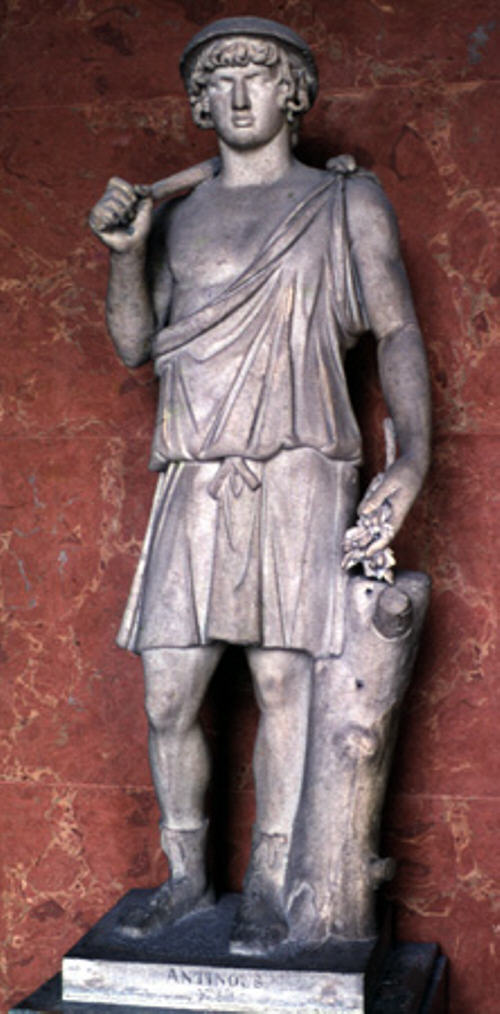 Aristaios is a hero who was often recognized in ancient Greece, and to whom Antinous is syncretized in this particular depiction, now in the Louvre in Paris. It was Aristaios who first innovated the sacrifices and observances of the dog-days in order to avert the wrath of Zeus, which caused him to make the weather particularly hot and destructive. Thus, this is the best day to honor him.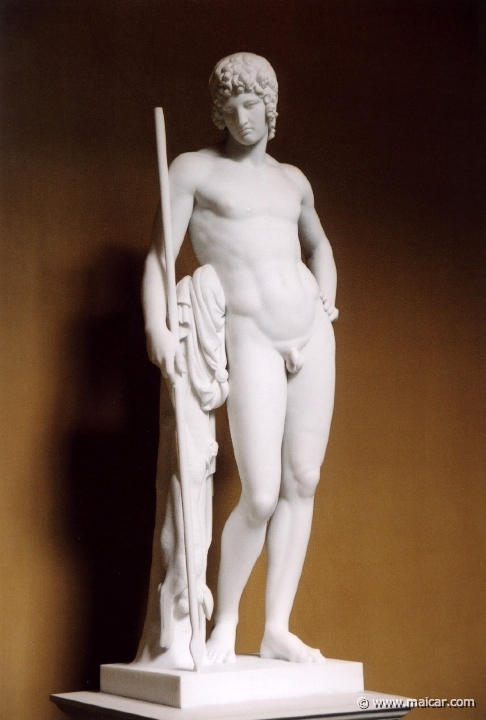 And further, Adonis is also recognized on this day, because the Adonia is thought to have taken place during this hot part of the summer (though it is not by any means certain what the date of the festival happened to be). Sappho mentions the festival as follows: "delicate Adonis is dying, Kytherea; what should we do? Beat your breasts, maidens, and rend your garments…" It was a festival that was only celebrated by women, and was specifically meant to mourn the dead hero/god. Wikipedia has this to say about one aspect of the festival:
One of the features of the holiday was the creation of "Gardens of Adonis". This involved sowing seeds of quickly-germinating plants— wheat, barley, lettuce, fennel— in shallow baskets, bowls or even in shards of clay. Tended by the women, who watered them daily, the plants grew rapidly but had shallow root systems. Images on Greek vases show the women carrying these little gardens up ladders to the rooftops, the unique site for the Adonia. At the end of eight days the pots of greenery were thrown into the ocean or a stream.
So, this is a good day to celebrate in a variety of manners. First and foremost should be offerings to the gods for the protection of crops, animals, and people during these hot times–whichever gods one would prefer are fine, but some to possibly include would be Zeus/Jupiter, Helios, Dionysos (whose dog, Maira, is often thought to be the same as Sirius), Isis, Serapis, or Mithras. Pray also for the aversion of forest fires and other types of wildfire throughout the world. Honoring the heroes Adonis, Orion (whose dog was Sirius!), Herakles, and Aristaios is also appropriate. And, of course, also honor Hermanubis…and treat your own dogs (if you have them) especially good on this day. And, honor Antinous as well, for he has connections to all of these deities.
May this day of many gods and many significances be full of the protection and grace of the gods for all who read this, and may they cool and shade you in their sublime presence!