As mentioned in my last post, today is the second of the Sacred Nights of Antinous, namely the Panthea festival. (My deepest apologies for being a bit later today with my post than I had intended…things aren't exactly going to plan in every respect for me lately…)
So what, exactly, is the "Panthea" festival? It's pretty much exactly what it sounds like: a festival of all the goddesses, Divae, and Sanctae of the Ekklesía Antínoou, where all of them are honored. A selection of the goddesses, all of the Divae, and a small number of the Sanctae can be found at the following link, but many more are certainly possible (further Sanctae can, of course, be found here). But before I mention some of them by name further, I'd like to also mention something else.
In a post from a few weeks ago, I mentioned Brandy Williams' new book, The Woman Magician: Revisioning Western Metaphysics from a Woman's Perspective and Experience, which is a book I cannot recommend highly enough.
But why am I mentioning it at this moment, you might ask? In order to counter a very false perception that, no matter how often I say something to the contrary, seems to be something I'll just have to keep reminding people about forever and ever in relation to the Ekklesía Antínoou: this is not a male-dominated, or males-only, practice. Yes, we are dedicated to Antinous, and to Hadrian, and to a great many male deities to whom Antinous was syncretized; but, that's not all, by any means. Two of my most favorite festivals of the ritual year are the Apotheosis of Diva Sabina (March 21) and the Dies Natalis Dianae (August 13). And, when I think about it, there's something that is somewhat assumed–at least in my mind–that I drew out a bit more explicitly in a portion of Devotio Antinoo (which is inching toward completion as we speak): we have a phrase often used in ritual in the Ekklesía Antínoou, which is Haec est unde vita venit, "This is where life comes from," and "life," vita, is a feminine noun. No matter what the "this" (haec) happens to be for the individual, what comes from it is vita, life itself, our very existence, the basic energy for all things, and that is female-gendered (without having to be "feminine" in terms of gender dualism or essentialism, thus requiring it to have certain qualities and not others). Or, at least that's the way I see things.
[And, I realize I've always been unusual in this regard throughout the modern development of Antinoan devotion--in fact, back in the days before the schism of '07, the ostensible "leader" of the other group would give myself and one of my colleagues a hard time on a pretty regular basis because we were so interested in and devoted to various goddesses, to the point that he called us a bunch of "damn maenads." Well, strictly speaking, I can't be a maenad, because I'm not female (though I'm also not male...!), but I take his attempt at being derogatory as a compliment, because maenads are quite admirable goddesses in their own right. (And, he seemed to be really confused about the whole thing, since maenads are all about Dionysos, and he thought he supposedly was as well...?!?)]
The new envisioning of cosmogenesis in Brandy's book is a goddesses-only creation tale based in Egyptian lore, with an exclusive cast of goddesses–including Nun, Isis, Seshat, Nephthys, Selqet, Neith, Anoukis, and others. And, it's a beautiful and appealing myth as well. In absence of any preferences to the contrary, I'd highly suggest considering it as one's preferred myth of cosmogenesis from an Antinoan perspective. Indeed, one could say as equally about it as about anything else, Haec est unde vita venit!
Now I would like to pay short homage to a number of goddesses and Divae, including all of the ones of whom I have an image on my home shrine, and several others for whom I do not yet have images, but would like to get some in the future. (Not all of them are Greek, Roman, or Egyptian, I should warn you–polytheism knows no bounds, and neither does goddess worship!)
I honor Hathor, first of the goddesses to reach out to me in my devotions to polytheism, who provided the land where the holy city of Antinoöpolis eventually stood. Dua Hethert!
I honor Sekhmet, fierce protectress, guarding the gate of the inner sanctum of my shrine. Dua Sekhmet!
I honor Hekate, dark, chthonic, ouranic, and oceanic maiden, guardian of the crossroads, foundation of magic. Khaire Hekate Soteira!
I honor Diana and Artemis, goddesses of Lake Nemi and of Lanuvium, huntresses in the woods, initiatrices in Sparta and Athens, mothers of Ephesus. Ave Diana! Khaire Artemis!
I honor Bast, playful but protective, perfumed princess of Egypt's goddesses. Dua Bast!
I honor Diva Sabina Augusta, wife of Hadrian, friend of Antinous. Ave Diva Sabina Augusta!
I honor Diva Matidia Augusta, mother-in-law of Hadrian. Ave Diva Matidia Augusta!
I honor Diva Plotina Augusta, adopted mother of Hadrian, partner in philosophical discourse with him. Ave Diva Plotina Augusta!
I honor Diva Marciana Augusta, mother of Diva Sabina. Ave Diva Marciana Augusta!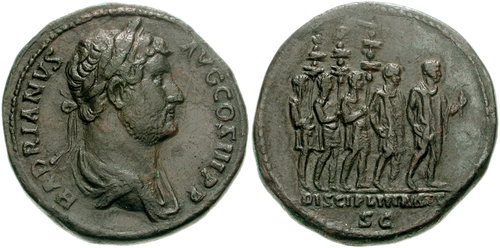 I honor Disciplina, shaper of all devotion and foundation of all good work. Ave Disciplina Augusta!
I honor the Lupa, foster-mother to Romulus and Remus, handmaiden of Mars, leader of Luperci. Ave Lupa!
(Now ones of whom I do not currently have images…and I'll save your browsers having to load more images in enumerating them.)
I honor Persephone, Queen of the Underworld, lady of pomegranates, initiatrix of the mysteries. Khaire Persephone!
I honor Selene, silver goddess of the moon, giver of dreams. Khaire Selene!
I honor Bríg Ambue, patron goddess of the outlaw, the stranger, and the cowless warrior. Bendachta Dé ocus An-Dé fort!
I honor the Three Brigids, patrons of healers, smiths, and poets. Bendachta Dé ocus An-Dé fort!
I honor the Morrígan, goddess of wrath and strife. Bendachta Dé ocus An-Dé fort!
I honor Epona, horse-mother of the Gauls. Ave Epona!
I honor Coventina, nymph of Britannia, guardian of spring waters. Ave Coventina!
I honor Bendis, horse-mother of the Thracians. Khaire Bendis!
I honor Kotys, chthonic maiden goddess of Thrace, of the fruiting branches. Khaire Kotys!
I honor Seshat, Foremost in the House of Books, lady of architecture and measurer of foundations. Dua Seshat!
I honor Ame-no-Uzume-no-Mikoto, mistress of arts and entertainment. Arigatou!
I honor Kali, fierce destroyer of all that limits. Jai Kali-Ma!
I honor Appia Annia Regilla, mother of Elpinike and Athenais, heroine of Herodes Attikos. Ave Appia Annia Regilla!
I honor Julia Balbilla Sancta, foremost poet and heiress of Sappho. Ave Iulia Balbilla Sancta!
I honor Antinoë, foundress of the city of Mantineia, follower of dragons. Khaire Antinoë!
I honor Mantinoë, mother of Antinous. Khaire Mantinoë!
And to many other goddesses, Sanctae, Divae, and endless beloved female ancestors, and living women across the world…May all of the gods, and especially Antinous, shower blessings upon each of you, today and every day, into the ages of ages!