One of the fun things about WordPress is that, on the blog dashboard, I get a read-out of all the search engine terms that people enter that come up with results on my site. Not surprisingly, from a very early date "Antinous" has usually been foremost among those. At most, these search engine terms tend to be one, two, or usually no more than three words long. But, an interesting one has come up in the last few days, and it is the subject line of this entry: "Is Polydeukion A Gay God?"
Well, I'm a big fan of talking about Polydeukion (as recent entries show!). He's one of the Treískouroi, the "Three Boys/Youths," along with Antinous and Lucius Marius Vitalis; and the phenomenon of his cultus is extremely interesting in its own right. So, I'll take this opportunity to address him and this subject further, for the benefit of anyone who might make that search engine inquiry again in the future–and if you, search engine querent, happen to be reading this entry, I'd love to hear your comments and feedback below!
First, let's address the second term of significance in that phrase: "god." Polydeukion is not a god, per se. Polydeukes of the Dioskouroi is a god, certainly–he was the "more divine" of the pair, and even though those gods are sometimes called heroes instead, they are very often called gods. This ambiguity of terminology exists for a lot of ancient divine figures, including Herakles, Asklepios, and various other figures that might be classed as "demi-gods." It also exists for Antinous, but for different reasons: he is called a hero in some places, and a god in others. Many people in the modern world would not see much of a difference between a god, a demi-god, a hero, a deified mortal, and a variety of other types of divine figure; and, there's nothing wrong with allowing for that sort of ambiguity. The formerly mortal often have a closer relationship to "current mortals" than the gods do, and thus it is understandable to be more attached to or attracted to many of them.
Polydeukion, the trophimos of Herodes Attikos, however, is never called a god in any extant piece of evidence from the ancient world–the limited number of inscriptions of or to him that survive from the time of the late second century never refer to him as a theos, only as a hero; and even then, very rarely. The very limited number of literary texts that speak of him do not address his divine status or theological classification at all: Lukian of Samosata, Philostratus, and Aulus Gellius' writings say nothing on this, while they do mention Polydeukion (though Gellius does not do so by name).
The image above is often said to be Polydeukion, but it is not; scholars are in agreement that it is probably one of the other Trophimoi of Herodes Attikos, Achilles. While many more identifiable images of Polydeukion survive than of the other two Trophimoi–and, indeed, more images of him survive than of any other private Greek individual for all of ancient history!–at roughly 25 such portraits, to Achilles' putative two or three and Memnon's one, and, further, Herodes seems to have honored him more highly than the other two Trophimoi, nonetheless it is evident that Achilles, Memnon, and Polydeukion all received heroic honors from Herodes Attikos; his wife, Appia Annia Regilla, also received heroic honors and multiple cenotaphs. It is unknown whether Herodes Attikos honored Antinous as a god, but it looks more like he honored him as a hero in shrines at one of his private villas, and the hero cultus that he did for him shaped his eventual hero cultus of the Trophimoi, his own deceased children, and his wife. So, while Polydeukion may be foremost among the mortals honored by Herodes due to the number of his images, the number of surviving inscriptions, and the evidence of games held in his honor, it is well to remember that Polydeukion was not alone in his heroic honors.
This brings us to the first term of the inquiry in relation to Polydeukion: was he "gay"? Well, apart from the historicist and cultural constructionist argument–namely, that "gay" is a term that is only really appropriate to describing the sexual orientation of people in the modern world, not the ancient world–there is literally not a single shred of evidence to suggest that he was in any way homoerotically inclined. Royston Lambert writes of him that he is a "rather unattractive" youth, which I find laughable personally, but I think it can be agreed that Polydeukion is portrayed–whether lifelike and accurate or not–in a far less erotically suggestive light than Antinous is.
Because Herodes Attikos was a Romanized Greek, and Hadrian was a Hellenophile Roman, and the latter engaged in the traditional erastes/eromenos relationship with Antinous, and Herodes was a conscious admirer and imitator of Hadrian, and finally that Herodes heroized Polydeukion in a parallel fashion to Antinous' cultus, it has therefore been syllogized by many modern scholars that, therefore, Herodes' relationship to Polydeukion was one of an erastes/eromenos character rather than anything else. But, as I said, there is absolutely nothing to suggest this is the case, or that this interpretation–while possible–is the most viable.
With one exception (which will be dealt with below), Polydeukion is not portrayed in any fashion in surviving images that suggest eroticization of any sort. His full name, as known, is Vibullius Polydeukion, and Herodes' mother's name was Vibullia Alkia, which makes it very likely that Polydeukion was a relative–whether more distant or more proximate–of Herodes. It has been suggested that when Hadrian was younger, Trajan was not merely his guardian but also his elder lover, and they were cousins; this is far from certain, but it is possible, and therefore it seems possible that the same could be true of Herodes and Polydeukion, even if they were related. However, we have the direct words of Herodes in at least one case–an inscription on a monument he set up, complete with a curse for anyone who might deface it–which indicates the nature of their relationship: Herodes mourned him because he "loved him as a son." While many intergenerational modern gay relationships have the "daddy/son" element to them, this wasn't the usual arrangement of the erastes/eromenos relationship in the past, it was more of a "patron/apprentice" or "teacher/student" relationship in the classical cases. As Polydeukion was a Trophimos, "foster-son" (although some have instead understood that term as "pet human"–?!?), of Herodes, it seems fairly clear to me that their relationship was one of surrogate sonship, and that Herodes viewed Polydeukion–and the other two Trophimoi–as the sons he would have liked to have had himself, considering that his own male children either died in their extreme youth or infancy, or displeased him greatly (in the case of Attikos Bradua).
The single depiction of Polydeukion that exists in which he is portrayed nude is the one seen above here, in the hero-shrine that was developed at one of Herodes' Arcadian villas, which had been a hero-shrine to Antinous previously. However, the nudity here is not erotic (and in the Achilles relief sculpture above, it isn't either–in the Achilles relief case, it is "heroic"), it is heroic or divine, and signifies that Polydeukion is dead and in the process of being divinized or heroized. Herodes is standing giving Polydeukion instructions, while Polydeukion himself seems to be following along on a script or crib-sheet of his own, which suggests that there is an element similar to the Orphic texts that accompanied various individuals in their burials, the sort of brief "books of the dead" that instructed them on how to proceed in the afterlife when certain challenges confronted them. Indeed, one of the surviving inscriptions that Polydeukion himself made before his death was a dedication to Dionysos, who was intimately involved in the Orphic Mysteries. So, you can imagine Herodes here saying to him "Now, when you get down to Hades, make sure you drink from the cold spring of Lethe past the white cypress tree, and not the other spring–okay, have fun!" as if he's sending him off to school for the day. Herodes, the great sophist, was ever the teacher…and in this, I fully understand and echo his own position!
So, to answer the direct and full question, "Is Polydeukion a gay god?" I would have to say no.
However, that doesn't mean that modern gay people can't do cultus to him, or that Polydeukion himself would not be interested in such things (even though in his own time there wouldn't have been much understanding of "sexual orientation" as a concept outside of certain limited circles).
In the book Etched Offerings: Voice from the Cauldron of Story, I wrote a short story called "Anankê Antínoou (Contingent Histories Along a Shard of the Second Sophistic)," which is a series of three "alternate histories," one of which involves Antinous living to a ripe old age and dying of natural causes. In that story, he ends up being the erastes of Polydeukion. I had not originally intended for that to be the case, until I realized something: if Polydeukion was born in c. 145 CE (which would be the time Attikos Bradua was born, and thus if Polydeukion was one of the "alphabet boys" that were his contemporaries, as seems likely, then they'd be the same age), then when Antinous was 48 in 158, Polydeukion would have been 13; and when Hadrian was 48 in 124, that was about the time he met Antinous, and if it were before November of that year, then Antinous would also have been 13 years old. Just as his elder lover had done, Antinous in turn had a youthful lover, and had he lived longer, it very well could have ended up being Polydeukion. And, like many people of that era, it wouldn't have been inappropriate or unusual for him to have done so, very likely with the blessing of Herodes Attikos in the process.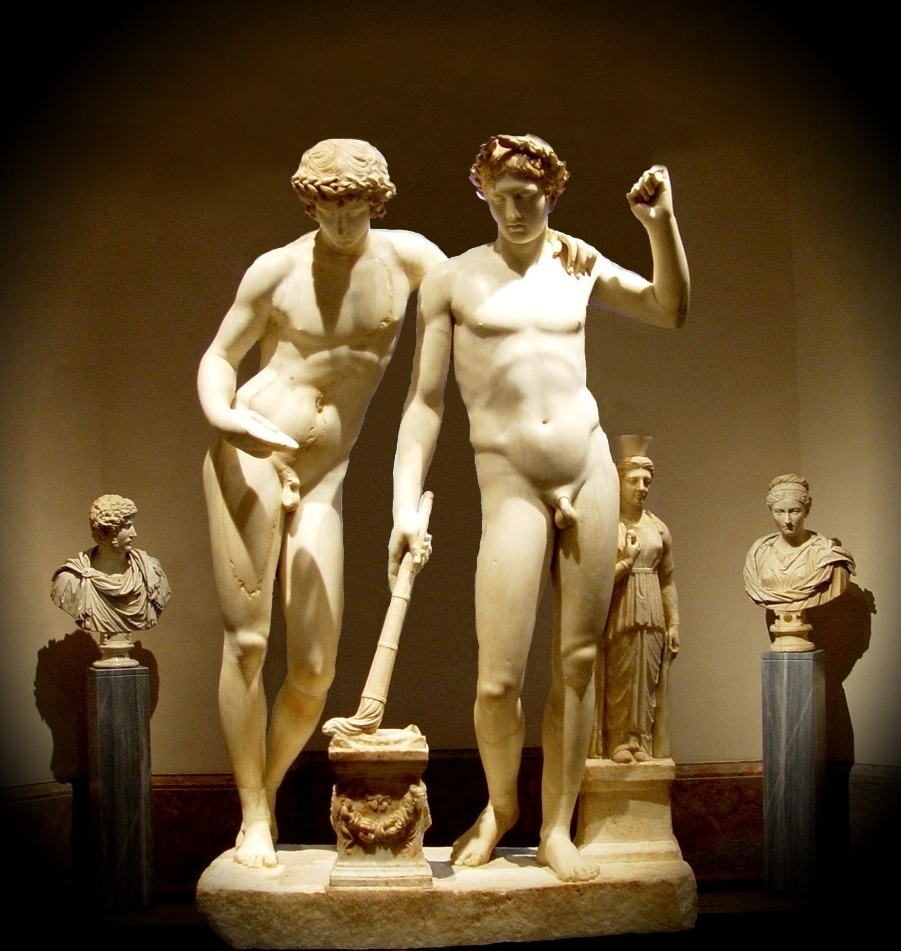 But, even though that did not happen, nonetheless there is a shared element between them, and a manner in which Antinous "passed the torch" to Polydeukion, at least as far as widely-famed Greek immortalization and subsequent success in propagated and surviving statuary goes. If Antinous was like the divine Polydeukes, then Polydeukion was like Kastor, the beneficiary of the other's immortality to ensure his own. And that is no small thing!
So, may we recall all of these figures, and praise them, and thank them for all that they have left us, and all that they may teach us!