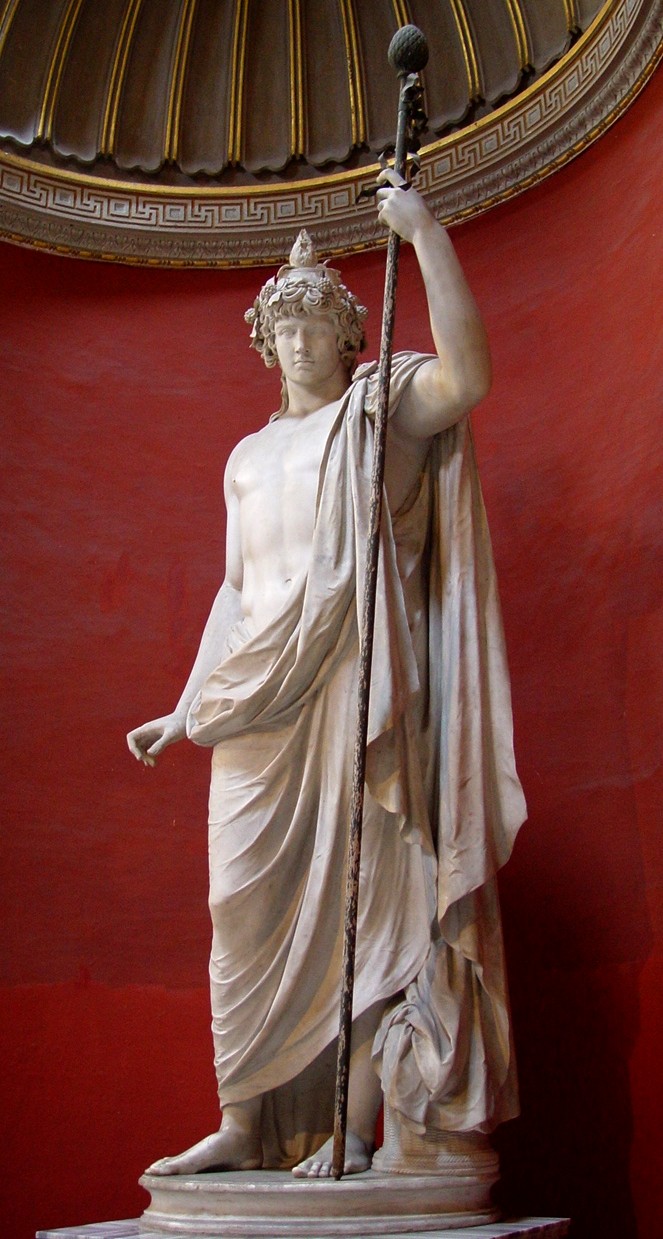 In noctis caelo primus
Hadrianus
Videbat stella Antinoi
Clara stella obscura
Captus in Aquila
Divina caelestis haec flamma
Dona nobis lucem obscuritati!
Ex opera eius Inferna
Ave Victor Ave
Antinoe nunc emerge!
Archon Domini subiecti
Ave Antinoe
Liberamurque in aeternum victore!
Ave Ave Victor Antinoe!
Annorum Decies Centena
Millia Scapha
Ad stellam obscuram perducta
Navigator Antinoe custodi nos!
First in the night's sky
Hadrian
Saw Antinous' star
A clear, dark star
Grasped in Aquila—
this divine heavenly fire—
Give us light for darkness!
From his toils in the Underworld—
Hail, Victorious One, Hail! —
Emerge now, O Antinous!
The Lord Archons are subjected—
Hail Antinous! —
and we are liberated eternally by (your) victory!
Hail, Hail, Antinous the Victorious!
The Boat
of Millions of Years
is guided toward the dark star.
Antinous the Navigator protect us!
*****
The above text is from the Antinoan Metrical Calendar that I wrote many years back, and which was published in Devotio Antinoo; due to various reasons having to do with revisions, calendrical changes, and the like, it is the longest individual entry in the metrical calendar. That version of the calendar (there is a prose version preceding it, which gives explanations of each holy occasion) is meant not only for shorthand usage–despite it not including every festival throughout the year–but it is also meant to be used for prayer, hymnic, or meditative purposes on each day in absence of anything else that you might have developed. It is also hoped that the metrical calendar will be the basis for the eventual book of days that I intend to produce. But, more on that later.
It occurs to me that some of the feasts we've observed in relation to Antinous this month thus far can possibly be seen to have a kind of development toward today in terms of the syncretisms that have been honored–and, technically, since Foundation Day as well. As Foundation Day and the days following it officially marks the entrance of Antinous the Liberator into his strongest period, and that period ends today with the transfer over to Antinous the Navigator, many of the syncretisms that are honored between early November and the present play into that liberating aspect quite nicely. We celebrate Antinous' Dionysian syncretism toward late December on the 21st of that month, a little more than halfway through this period; Dionysos is the liberator in Greek mythology, if ever there was one. Then, on January 1st, we celebrate his syncretism with Asklepios; as a god of healing, freedom from physical ailment is certainly an experience of liberation. Next, we acknowledge Antinous' syncretism with Pan; if Dionysos is the liberator of Greek mythology, then Pan is probably the most liberated of that pantheon's deities, and the uninhibited wildness and exuberance of nature is therefore celebrated in that syncretism. On the 21st, we then mark Antinous' syncretism with Ganymede, who is an interesting further example of liberation, but this time as the mortal beneficiary of such liberation and immortalization. On the 23rd, we celebrate the syncretism of Antinous with Agathos Daimon, which is not only a deity in its own right, but also that aspect of ourselves that seeks to be liberated, and upon which any and all future and further foundations for spiritual work and liberation are built. And, on the 27th, we have one of the festivals of the syncretism of Antinous with the Dioskouroi, who were the liberators and saviors of so many people in the ancient Mediterranean world.
As a final contemplation on this occasion of Antinous' victory over all the oppressive forces that can exist in the world, I'd suggest reading/reciting "The Child Armed and the Son of Evil," which I gave in my entry on this occasion last year.
But now, we are in the good hands of Antinous the Navigator, the gently guiding light of his star that was first seen on this day in 131 CE–and seen, I might add, as far away as China, where the astronomers were good enough to record the phenomenon, proving that the various Christian (and some pagan) critics of Antinous' cultus were wrong when they demeaned the "false tales" of his star appearing in the heavens. Until late April, this aspect of Antinous will be guiding us in subtle and secret ways, urging us to use the liberation we have been able to achieve in ways that are useful and productive for others, as well as for ourselves. The entire matter of mentoring, which is to occur (with any luck!) in the future of the Ekklesía Antínoou in relation to queer pagan youth, is an ideal activity to engage with under the auspices of Antinous the Navigator. So, I'm excited about that very much indeed!
From the hymn "Ave Ave Antinoe" comes these verses, which I think are always useful to contemplate, but which seem particular apt to this moment, when we thank Antinous the Liberator for all he's done, we hail the arrival of Antinous the Navigator, and we look forward to the coming of Antinous the Lover.
Ave Ave Antinoe Liberator
Homo Deus, Victor, Pacis Imperator
Ave Antinoe, Ave Navigator
Veni, Veni, Antinoe Amator.
May every freedom of Antinous the Liberator remain with you, guard you, and gird you for the coming year; and may every guidance of Antinous the Navigator direct you, sustain you, and encourage you in that time as well!