I know it's sort of "bad form" for an artist or author to explain or explicate their works of art or writing, particularly when they're totally new (as in "just finished an hour or two ago"), as the poem in my last entry was. However, there are some things that I may need to explain about the poem and its significance, both mythic and historical, particularly for me in the state of Washington right now. And, this will lead to some other thoughts that may be more useful in general. So, off to it, then…
First of all, today is historic–or, at least, it's a step in what will be a historic process–for local reasons, and for queer rights reasons, because the Washington State Senate just passed a bill that will allow same-sex marriage, and calling it marriage (as there were domestic partnership rights allowed in the state previously), which the Governor has said she will sign into law. The bill already passed the state House of Representatives, so it's as good as done now; it will take effect in June. There have been cases before the state's Supreme Court over the last few years that attempted to get it legally allowed, but these have not been successful; so, it's good that the legislature and the executive branches have come out so strongly in approval of this right. It's likely that a number of conservative religious organizations will attempt to get it repealed through a ballot measure in this fall's election; however, I am confident that we won't have a Proposition 8 situation here, as the general public of Washington seems to be pretty indifferent to conservative religious advertising of this sort, and there is not a majority of conservative Christians in the state.
So, the Ekklesía Antínoou, here in my home state and present residence of Washington, may get to perform its first queer marriages in the near future! I look forward to the occasion when this might occur with great excitement!
As a result of the timing of this legislative decision, I thought that something celebrating the queer side of Brigid would be very appropriate indeed, and what better sort of poem than an epithalamia, a "wedding-poem," in honor of such an occasion?

However, many may not know about the queer side of Brigid, so I'd better explain that. But first, something else.
The first word of my title, feis, is an interesting one. It's a word that is used on occasion in Old Irish, and very often in Modern Irish, to mean "festival" or "gathering." The word for "feast" in Old Irish is fled; the word for "festival," which often gets applied to Brigid's Day in the modern period, is féile; and feis is used in the modern period for things like the major conventions of the political parties. However, feis comes from a more interesting and descriptive verbal root: it is the verbal noun of the verb foïd, which means, quite literally, "to stay the night with," and thus figuratively "to sleep with" (i.e. "to have sex with"). The great "feast of Tara," the Feis Temro, therefore, isn't a feast so much as a "fuck-fest"! And thus, to celebrate Brigid's Day in this manner is to celebrate a wedding night, a nuptial occasion…
"But," some people may be saying, "Brigid is a virgin!" Well, not exactly–only in her Christian incarnation as St. Brigid is she a holy virgin; in Irish myths, she is most certainly a mother. But more on this later…
In the Christian hagiographies of Brigid, she is said to have had a disciple named Darlugdach, to whom she was especially close, and who "shared her bed." While we are supposed to understand this as a sign of their closeness rather than as a sign that they were sexually intimate with one another (being that they were both nuns/holy consecrated virgins!), nonetheless it's suggestive from our viewpoint; and, from a lesbian historiographic viewpoint, it's often been taken as an instance of female same-sex love and devotion in a medieval Irish context–the love is certainly there and explicit, even if the sex isn't (or even couldn't be). When Brigid died in the particular vita where her relationship to Darlugdach is described, Darlugdach became her successor, and died the following year on Brigid's feast-day. Darlugdach herself is considered a saint in Ireland, and thus shares her patron's feast-day as well. Like other neglected female Irish saints with some pagan relevance, I think she should have a higher profile amongst modern pagans, and particularly amongst modern devotees of Brigid.
One of the interesting things about Darlugdach is that her name, very transparently, means "daughter of Lug." And this I find particularly interesting, because Lug and Brigid aren't exactly the best of friends, even though they share many things in common: both are connected to patronage of various arts, and both are connected in various ways to queerness (often through their relatives). I know of no myths in which both are present and interact with each other in any way, but I know of several in which their relatives have difficulties with one another. The story of the Trí Dee Dána, the "Three Gods of Skill," who were the sons of (one of the goddesses called) Brigid and Tuireann (or Tuirill Bicreo, or Tuirill Picrenn, etc.), killed Lug's father Cian, and then Lug sent them on a wild goose chase that enriched and empowered him in arming for his future fight with the Fomoiri, but which was designed to bring about their doom–and that it did with their final task being performed. Lug's son Cú Chulainn had one of his most difficult feats to perform on Imbolc: his single-combat with his foster-brother Fer Diad, which I wrote about last year. These various occasions are not exactly times to celebrate good relations between Lug and Brigid and their families; and yet, in a Christian story of Brigid, they finally reach some sort of reconciliation when Darlugdach pledges herself to Brigid's care.
(It's also interesting to note that Cú Chulainn is related to Lug as his supernatural/foster-father, and also to the Dagda via his mother's lineage, if I'm not mistaken…as the three Brigids who were the patronesses of smithcraft, poetry, and leechcraft were the daughters of the Dagda, and the Three Gods of Skill were the children of one of them, and the Dagda himself is also said to have been "good at" many different skills, thus gaining his name An Dagda, "the Good God," these things all end up relating to one another…!?! And, to bring in even more such relations: the story of Niall Frossach, a.k.a. the Middle Irish lesbian story, is related to both of these, because it takes place at Óenach Taillten, which occurs around Lugnasad, and it involves a kind of repetition of a miracle that is originally attested in one of Brigid's vitae! EVERYTHING INTERCONNECTS!)
So, even though no stories or accounts of Darlugdach exist outside of the Brigidine hagiographical corpus, and no direct connection to Lug in her (as a deity or as a human) is attested in anything other than her name, nonetheless I think their friendship and their union is deserving of more attention, and of a story of its own–remythologized, certainly, as any retelling in even the most strict and "exacting" terms of any myth of the past is a re-interpretation–for our time, for our polytheistic sensibility, for a queer understanding, and for a situation in which polyvalence of communal involvement, history, and religious sensibility and viewpoint all equally work together toward a common purpose.
*****
While the above ought to be sufficient enough, without giving a line-by-line interpretation of the poem, it does bring up some other questions, though, which could have warranted their own entry, but I'd like to just continue the present one and consider this a "part II" or supplement or further chapter to the whole discussion, stepping away from the specifics of character, historical significance, and mythic background, and instead focusing on some of the theological issues which I think are brought up by the entire situation. Part of this has to do with syncretism, as an academic reality rather than as a practical or historical reality–and this issue is largely, if not wholly, ignored with Brigid on a regular basis to the point that even bringing it up often upsets, confounds, and outright turns off a great many modern pagans, particularly if they have no interest in nor experience with the methodologies of reconstructionism.
There is both inter-pantheonic and intra-pantheonic syncretism going on with the figure of Brigid, and it is almost an entirely modern thing, especially where scholars are concerned. While many modern pagans are not familiar nor in contact with the academic writings where these things take place (particularly outside of the Celtic Reconstructionist communities), nonetheless that influence has filtered in and has become endemic to modern paganism, both in Celtic-specific and Celtic Reconstructionist particular contexts, as well as more generally.
Note, in this I'm not even talking about the monistic (or triadic "Maiden-Mother-Crone") interpretive tendencies amongst many pagans of all stripes in terms of Brigid being the "spring maiden" in contrast to the Cailleach that represents winter; I'm speaking specifically and only in relation to the figure of Brigid herself–or, should I say, more properly, to the figures who are themselves called Brigid, Bríd, Bríg, and so forth.
I've encountered very few modern pagans of any stripe who think of Brigid as anything other than as a unitary figure. Even where some people consider Brigid as both a pagan Irish goddess and a Christian Irish saint, they still think of them as being "the same," or that the latter is based on the former (on which, more in a moment). A singular Brigid is cited as being the goddess of poetry, smithcraft, and leechcraft, and yet the text in which all of this information is contained–Sanas Cormaic, "Cormac's Glossary"–says that there are three goddesses called Brigid, all of whom were daughters of the Dagda, and that each one of them presided over one of these crafts/skills. (Yes, there are triple Brigid images available for modern pagans, but theologically I still hear them referred to as if they are "all one" or are "three aspects of the same goddess.") So, there are three Brigids, at very least…
And yet, it doesn't end there. There is a woman called Bríg Ambue, whose name means "Bríg of the Cowless Warrior," and Bríg is taken as synonymous with the name Brigid. (And, linguistically, it is…) This further Brigid seems to have some connection to youthful warriors of the fénnid, and ambue is somewhat synonymous with various terms meaning "outlaw" and "foreigner" (like cú glas, etc.); and yet, in the attested literary tradition, she appears as the authority behind a number of legal precedents, as a famous judge (who was even approved of by St. Patrick), and–in one rather memorable case–as the "inventor" of lapdogs…and in the latter capacity, Bríg Ambue is one of three different individuals in different stories credited (though in her case, without an accompanying narrative) for having introduced lapdogs into Ireland. BUT, WAIT; THERE'S MORE! There's also a Bríg who is a briugu, which is to say, a "hosteler," who owns a house of hospitality for any and all wayfarers, and who is therefore independently wealthy and can support whoever comes by with her own generosity of resources. There's also a Bríg who is the wife of Bres in Cath Maige Tuired, who is the mother of a character called Ruadán who is thus half-Fomoiri (though, technically, only a quarter, since Bres is also half-) and half-Tuatha Dé, and when Ruadán attempts to kill Goibniu and is killed in turn, Bríg (who is credited with having invented a whistling signal used by warriors) laments her slain son and is credited with having done the first keen in Ireland. This Bríg is said to be a daughter of the Dagda, but which one isn't made clear…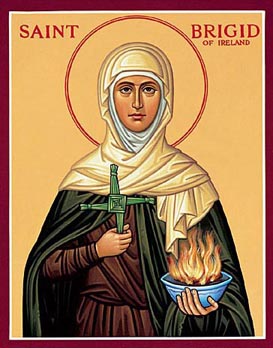 And, as if all of that weren't enough, there's two further elements to bring into the mix. First, there's the demonstrably Christian element of all of the stories of the Christian St. Brigid (in at least three different early vitae in Latin and Old Irish, as well as further hymns and commentaries on them, etc.), from which anything relating to Brigid the virgin, to miracles involving milk or cattle or butter or any animals (including wolves and foxes), to chariots, to wells, to eternal flames, comes–and, I have yet to encounter a pagan treatment of Brigid (recon or non-) that hasn't drawn upon some of these elements.
Then second, there's the demonstrably pre-Christian element with the Romano-British goddess Brigantia, who is taken to be synonymous with Brigid (whether in her pagan or Christian forms), even though it is almost certain that her cultus as it is known originated not in native practices or notions, but in Roman attempts to mollify the tutelary goddess of the Brigantes after the revolt of the Maeatae along Hadrian's Wall in the late second century CE. Thus, it seems she's more like a iuno populi than a goddess as such, at least in the forms in which we know her name or in which her image has been produced–as in the figure above, which is actually from Roman Scotland! She is called Brigantia, but also Caelestis Brigantia ("heavenly/celestial," possibly syncretized to Juno Caelestis, who is herself syncretized from a Carthaginian goddess!), Nympha Brigantia (not unlike the goddess/nymph Coventina in northern Britain!), Brigantia Augusta, and Victoria Brigantia. In her visual imagery above, she looks a lot like Minerva, another "holy virgin" and warrior; and yet, when one brings in the matter of St. Brigid's eternal flame at her abbey in Kildare, the Roman figure always mentioned is Vesta with her flame guarded by the Vestal Virgins. Yet, Athena (the Greek goddess connected to Minerva) had eternal flames in her temples in Athens–and these were associated with Hephaistos, her failed paramour! In Britain itself, Gaius Julius Solinus reports that there was an eternal flame in the temple of Sulis (also syncretized to Minerva) at her thermal springs in Bath (a location I've visited personally–wonderful!)…
And, indeed, there were other "eternal flames" at monasteries in Christian Ireland and Scotland and the surrounding isles. But, I draw these two further dimensions to the debate in terms "demonstrably Christian" and "demonstrably pre-Christian" for the main purpose of showing the fact that everything we know about Bríg/(i)/d the goddess does not come from pre-Christian pagan Irish culture, but from Christian monks writing during the Christian period who were familiar with the Christian Bríg/(i)/d. Yes, there were Brigantes in both Ireland and Britain and on the continent; yet, the evidence for "Brigantia" as a kind of tutelary goddess for them only comes from Roman Britain in a period and a location in which the Romans were honoring her for religio-political reasons, and it is thus questionable as evidence for a pan-Brigantian goddess figure.
So, I think a great deal of the "Brigidine monism" that we experience, both in pagan culture (whether Celtic-specific, recon-specific, or not/neither) and in scholarly literature, is largely due to the latter, and in particular it is due to the monotheistic tendency to want to see any and all deities as "all one" rather than as polytheistic realities. This is due, no doubt, to the fact that most scholars who have written about these topics before now have been ostensible or actual Christians, who have generally not had any training in general religious studies (even though they may be very well-informed on Christian history, scripture, or theology), and thus are totally ignorant both in knowledge and in experience of polytheism as a lived reality. Further, many of the scholars who have written about these things are linguists, and thus there is a tendency to see the proliferation of a particular name (or versions of a particular name) as functionally equivalent, even when they may have independent origins on a mythic or narrative level. It is true, a good deal of this kind of proliferation took place in medieval Christian Ireland, when saints who were popular got localized in different places, and then were treated as different individuals. But, the existence of such diffusions from a common source does not automatically extend to any and every instance in which there is a linguistic or narrative similarity or some other such actual or hypothesized connection between figures.
There is a further Christian tendency that contributes to these types of interpretation. People are used to reading one character as another from Christian exegesis, both because of allegorical typology (thank you, Origen!), in which references to Abel can be read to mean "Jesus," for example; but also, because of Trinitarian theology, logic, and thinking. Because the Christian Trinitarian doctrine suggests that there are three Persons, but one God behind them, it is easier to see (and therefore assume) one deity behind any proliferation of them, especially where they occur in triplicate, as they do with the three daughters of the Dagda who were called Brigid. This same sort of thinking leads people to believe that Jesus wrote the Bible and is in all of it, because God the Father (at least as Christians understand that figure) is mentioned and is a major character in many of the books of the Hebrew Bible/Old Testament, and because of the dogma that the Holy Spirit inspired humans to write the Bible…but, since God the Father, the Holy Spirit, and Jesus are all "the same," one just gets into the habit of reading one for the other or for all whenever one of the names appears.
This is all very interesting, and as far as theological phenomena go, it's not necessarily a bad thing. But, that only really works in Christian theology. We, who are pagans, whether we are Celtic or not, whether we are reconstructionists or not, whether we are ditheistic or polytheistic, not only aren't required to think in these Christian theological terms, but it is totally inappropriate for us to do so.
I was writing a piece the other day which occasioned me to quote David L. Miller's book The New Polytheism. This is an older book, and one that the few pagans I know who have read it don't often think very highly of because of his tendency to archetypalize and psychologize myth and the gods. In any case, whatever one might think of his overall tendencies, I quite enjoyed the book when I read it, and there's a great deal of useful information in there to think with, in my opinion. One such part is the bit that I quoted in my recent writing:
A polytheistic theology will be stories of the gods (rather than theistic systems) and an aesthetic creation (rather than a logic of life). It will be theopoeisis….A polytheistic theology will be a theology of the word, but in the manner of Hermes, who is appointed messenger of the Gods because he promises never to lie, but adds that it may be necessary for him not to tell the truth in order that he may not lie. Hermes was a trickster.
While a great deal more could be said on this quote, I like the beginning especially in relation to the present matter and the questions that I think are pertinent to my present purpose. If our theologies as polytheists are really to be our stories, our myths, and if the theologies of our polytheist predecessors are likewise bequeathed to us in their own myths that have survived (in whatever narrative form those may be–preserved by pre-Christians or given their current form by Christians, etc.), then there is something that we must do. We must read the various stories in which particular figures are said to be separate as if the figures concerned are separate. We must no longer assume, therefore, that the various figures called "Bríg/(i)/d/[-antia]" are really "one goddess." We must no longer assume that what has been said about the Christian St. Brigid automatically, or even possibly, applies to the various goddesses and heroines called Bríg/(i)/d/[-antia]. In the stories and the accounts that have come down to us, they're separate figures; and for narratological sense, we must understand them to be separate.
However, being that many of us are syncretists–including myself!–and this can extend to both inter-pantheonic syncretism (i.e. considering all the figures called Bríg/(i)/d in Irish and Scottish culture as being the same), intra-pantheonic syncretism (i.e. bringing in Brigantia, even though she probably owes more to Roman religious concepts and syncretisms), and inter-religious syncretism (i.e. bringing in St. Brigid to one's overall picture of Brigid)–there's no barrier to us saying that, for us, for now, these figures are the same, or are at least similar, or are at least in some way connected. The difficulty is in stating that they are and always have been "the same" in the wide diversity of materials which have been transmitted to us from the pre-Christian and medieval Christian pasts on this particular topic–and, indeed, on many others having relevance to Celtic religiosity in general. You'll see that in the poem I wrote earlier today, I've done exactly this, because it served my purposes to do so; and, for the narrative and poetic logic of that piece, one can truly say that all of these streams have come together. But, that is most definitely a poem from a modern time, a modern place, and a modern viewpoint–just as everything, when it was written, is (or was, or will be). I have no doubts that ancient pagan Irish people might see it and go "What're you on about, like?" I have no doubts that medieval Christian Irish people would see it and go "Ah, go 'way." I have no doubts that many modern readers might look at it and think "I really don't see why this person is infecting our figures with such a strange viewpoint." But, it is what it is, and I am happy enough with it for the moment. And, that's all that needs to be said of it.
The big danger in all of this–whether with Brigid and the question of her one-ness or her separateness, or the question of Antinous and his queerness–comes down to mistaking one's perfectly valid and understandable modern viewpoint or interpretation or theology for the viewpoint and interpretations and theologies of the people of the past. I try, whenever and wherever possible, to make it clear when such past mindsets can be discerned within the sources that we study, but even those conjectures emerge from a modern viewpoint and sensibility. We cannot be rid of our own temporal, political, theological, and personal contexts as they influence our artistic, spiritual, and devotional writings–nor should we want to be, I think. But, we should never be so foolish–and, dare I say it, so guilty of hubris–as to suggest that those viewpoints have "always been," or are found in premodern sources, or that because of such suggestions that they are "right" in ways that other viewpoints aren't. I've been guilty of making that mistake before, and I am sorry for when it has occurred; I will do my utmost to not make such mistakes again. I hope that many others out there who might be reading this will likewise exercise their discernment and their critical faculties in evaluating their theological suppositions at all times as well.