Just a short reflective post today–but one that I've been wanting to write for a few weeks.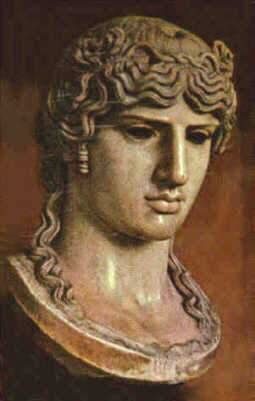 There's a particular colossal statue-head of Antinous–shown here–that is known as the "Mondragone Head," after an Italian villa which is near where it was found in the eighteenth century. It has been included in the corpus of recognized ancient Antinous statuary since not long after it was first discovered, and it remains such to this day, despite the fact that it does not even approximate the usual distinctive hairstyle of Antinous. It is said to have been based upon certain models of Apollon statuary. If there was a body to go with it, it would have been the largest statue of Antinous to have ever existed, most likely. It used to have eyes that were possibly some precious gem or another, so it is thought. I've always thought it is an awful lot like the Statue of Liberty–and if we think of Lady Liberty as a kind of localized form of Libertas (who may be related to Libera, who is the sister of Liber, who is generally thought equivalent of Bacchus/Dionysos, to whom Antinous was widely syncretized!), then that would mean this statue is sort of the "little brother" of Lady Liberty. But, I digress…
Something I've heard discussed and disputed in the non-scholarly literature, however, is the gender of this statue head. Many people are utterly insistent on seeing it as female rather than male. And, honestly, there's not enough of a body there to really be certain; the facial features aren't so distinctively one gender or another to make it "definite" outside of one's own preferences, I think. The fact that they do tend to align pretty closely with the known corpus of Antinous statuary is the "definitive" factor in the continued inclusion of this statue in the corpus, and thus its identification as Antinous.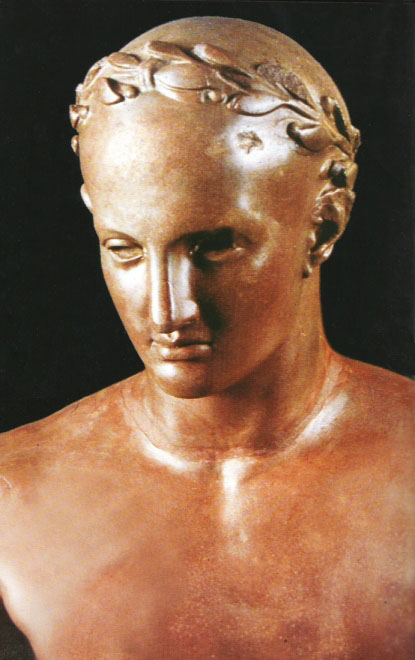 But, what about this one? This is a relatively new addition to the corpus of Antinous statuary, and as you can see, the problem is in the "opposite" direction–which is to say, no hair at all. This red marble statue is one of several that had been interpreted as either "athletes" or "priests of Isis," but it has been recently re-interpreted as Antinous portrayed as a priest of Isis. (Antinous as a priest of Attis and Cybele/as a gallus is also attested elsewhere, as you may recall.) Again, the facial features seem to be pretty close to the known corpus of Antinous statuary; but, the missing and rather essential characteristic curls of the Bithynian's hair being entirely absent here causes a bit of uncertainty to be shed on the situation. Yet, I'd venture to guess that (even despite having more of the statue to look at than just the head and neck, as with the Mondragone) most people would readily agree that this statue must be depicting a male rather than a female subject.
Why?
Now, understand that I'm not actually asking that question literally, and I am not asking for anyone to answer or to explain why they think the "why" in question here is in operation. What I'm instead trying to do here is to draw out a few points about the nature of androgyny when matters of physicality are concerned.
This question has been of particular interest to me recently because of my work with the Tetrad, as I am planning on having some images of them created. While Panpsyche and Panhyle's physicality is much easier to address than that of Paneros and Pancrates, nonetheless some issues naturally arise in discussing this matter at all. So, I'd like to just briefly share some of those with you.
It seems to me that in certain areas of physical characteristics, both the extremes and the mean on the spectrum can qualify as androgynous. Having very long hair tends to get stereotyped as a "female" thing, and yet there are lots of males (throughout time, history, and cultures) who have had very long hair and not had their "masculinity" questioned, despite the tendency of some people–particularly in the last hundred years in Western cultures–to automatically start questioning the masculinity of any male with long hair (even if they also have a beard, for example). And, short hair or baldness has also been stereotyped as a "male" gender marker, and yet many women in a variety of cultures have also had shorn hair or been bald, and a number of modern women have made short hair or baldness a very striking and sexy look, and have shown how it can work for women as easily as it can for men.
In fact, I'm reminded of Tony Vincent from The Voice, who just got voted off last week (sadly). He's very attractive, in my opinion, and yet his baldness in his current look suggests androgyny to me more than anything…and, there's nothing wrong with that. Compare him to Beverly McLellan from last year, who was also bald, for example. [Though, as a totally side-issue, I have to say I'm disappointed this year that The Voice has somewhat "de-queered" so early in the game, losing Nathan Parrett--the only definitely gay man in the game--and Sarah Golden, who I don't think declared one way or another but certainly seemed to be a rather butch lesbian...and far too talented to have been sent home already, too!]
However, it is amazing how the "middle" range of hair-length is generally not as androgyny-suggestive…unless it is. Lesbians have been doing Justin Bieber hair for longer than Justin Bieber has been alive, in many cases, for example…and, it's not just butch or femme lesbians who have. Crikey!
Then, there's another aspect of physicality in which the extremes can both suggest androgyny, but in which the middle range tends not to. That's the factor of body size. Many extremely thin people tend to lose definite male or female markers, as do many extremely large people. In the mid-range, the lines and "proper curves" of certain gendered body types tend to be more visible and (to people who are accustomed to think this way–which is, alas, most of the world and certainly most of Western culture) easily characterized as one gender or another.
So, I'm wondering what some of your own thoughts on this are. I'm not at all interested in just going "Well, what have they got down below?" I'm much more interested in exploring how particular characteristics can be seen as coding androgyny, or that can be read as androgynous…as I suspect there are far more than the ones I've mentioned above which can work this way.