The present post was one that I just couldn't wait any longer to get out…I had the idea for it the other day during my travels, and after a particular discussion elsewhere. So, being that "full service" is now back on this blog, why not two in one day–and especially a day associated with Mercury/Hermes?

[In fact--total side-note--discussing some of the ideas in what is to follow prompted my good Irish Catholic friend, who was at the first two Foundation Day rituals in Ireland and has been there from the beginning with my devotion to Antinous, and who I got to see (though not nearly enough for my own satisfaction!) over the weekend during the conference, to say "There are some times I really wish I weren't Catholic!" High praise from a very dedicated Catholic indeed!]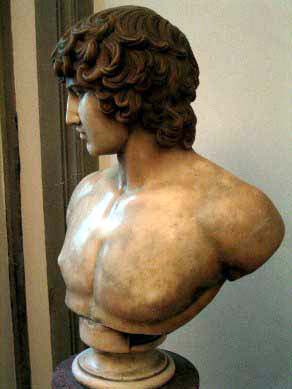 In other quarters, there was a question about whether or not Antinous is ever called a shepherd, followed by the suggestion that he should be called the "Good Shepherd" just like Jesus and his flocks of sheep. While there are various deities to whom Antinous is syncretized–including Hermes, Pan (especially, since the attribute of the pedum or curved shepherd's crook is the bit of Pan's visual iconography that gets incorporated into some Antinous coinage), Dionysos, Ganymede, Adonis, and others–that have shepherd epithets, and it might be an appealing image for a variety of reasons, it just doesn't quite work out for Antinous, I think.
The reason? Antinous doesn't need humans to be dumb herds of sheep in need of constant supervision, and with a reckless shepherd who will abandon the flock to save one stray, as the parable which earns Jesus the Bonus Pastor epithet indicates.
But, Antinous does need us to do our roles and do them well, and to contribute them to the overall community for its well-being. As a result, I think we can describe Antinous in a way that might not be expected, and in fact might strike many people who find the Bonus Pastor image preferable as quite antagonistic and even threatening (though it is not necessary to do so): Antinous as Bonus Lupus, "the Good Wolf." Let me explain why.
There's an awful lot of cultural baggage–most often negative–around wolves for Europeans, particularly because of statements about "wolves in sheep's clothing" and so forth, and a very negative view of wolves as presented in the New Testament. However, some of the positive views are equally distorted. Also, in terms of reclamation of werewolves for popular consumption, there has been far too much emphasis on things like "who's the Alpha" in a group and so forth (True Blood, anyone?), which makes of all werewolf interactions a kind of huge pissing and posturing contest, when in reality wolf interactions aren't nearly as focused on such matters at all. A good pack leader is just as often the best "strategist" and administrator as it is the most aggressive, strongest, or largest, and in the wild such alpha wolves have been witnessed directing attacks against prey from the sidelines and coordinating the efforts of the other pack-mates for the most effective ends. This, I think, is the Bonus Lupus that I'm imagining: a leader that sees the strengths and weaknesses of its team, and is able to coordinate the team overall in such a way as to play to and utilize each person's strengths, and to support them in the areas in which they have weaknesses. That's the type of god that, I think, Antinous is–he is totally not the type to come in and bulldoze over someone's personality, or to harry them into submission, or to make the relationship between himself and others a constant struggle and a continuous show of aggressive power-playing and posturing. Thus, the image of Bonus Lupus is a good one, I think, to apply to him.
Plus, there is something to suggest its usage where Antinous is concerned. The above picture is from an ancient Greek vase painting, showing Dolon, who disguised himself as a wolf during the Trojan War and was eventually caught by Odysseus, as detailed by Euripides in his Rhesus (the title character of which was a Thracian prince–and, the Thracians and Dacians certainly had quite a bit of wolf and werewolf lore associated with them as well!). While there are various deities and heroes associated in different ways with wolves in Greek and Roman mythology, the population most associated with them is the Arcadians, and of course Antinous is of Arcadian descent. Their ancient legendary king, Lykaon, was the first werewolf after Zeus cursed him. Zeus, as well as Apollon, are given the epithet Lykeios in various different locations, including Arcadia itself.
There was a legend, related by Plutarch, that not unlike the story of Romulus and Remus, one of the Arcadian descendants of Lykaon had twins by Ares who were called Lykastos and Parrhasios, and the name Parrhasios turns up as one of the demoi names of the phyla of Oseirantinous in Antinoöpolis. On a few coin issues featuring Antinous, his head is on one side and Romulus, Remus, and the Lupa are on the other side.
[Several years back, on my old website, I had a piece on "Canine Connections" with Antinous, and I will probably be revising that, and adding a bit from the above, to it and will include it in the forthcoming Studium Antinoi: The Doctor's Notes, Volume Two!]
So, what do you reckon: is Antinous as Bonus Lupus a "good" image, or a "bad" one?