Today is a very packed holy-day, and unfortunately I won't have time to elaborate upon it as much as I'd prefer.
First and foremost, it's the dies natalis of Diana, as celebrated throughout Italy, and particularly at her shrine at Lake Nemi, which was near the community of Aricia and was strongly identified with it; but, it was also close to Lanuvium, where Antinous and Diana shared a temple and a collegium, and thus it makes it into their festival calendar as a major holy-day. I'll have more to say on this in a moment. In the meantime, you can listen to my Natalis Dianae hymn from my entry on this day two years ago.
It's also a festival of the Dioskouroi in Rome, as well as being a festival of Vertumnus and of Hercules Invictus (the second day of a two-day festival for him, actually). As Antinous is syncretized to all of these deities/heroes, we thus also reckon his syncretism festivals for them on this day. You can read slightly more about these occasions from last year's entry.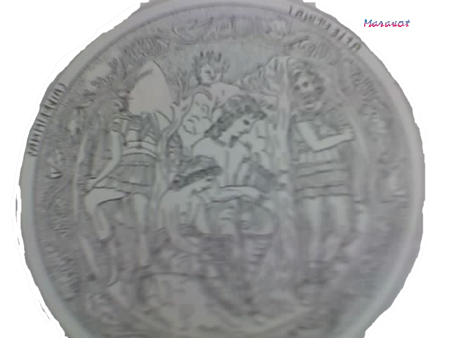 What has me particularly preoccupied this year, however, is the figure of Virbius, a minor Latin deity who was also honored at Diana's cult at Lake Nemi/Aricia, along with the nymph Egeria. It was said that Virbius was the Greek hero Hippolytus, who after being killed by Poseidon's curse, was revived on the instructions of Artemis/Diana and then brought to Aricia, becoming the first rex nemorensis, upon whose ritual Sir James George Frazer placed so much importance in his work The Golden Bough. It was also said that Virbius married the nymph Aricia and from her had a child who was also called Virbius. There was a later saint called Hippolytus who was celebrated on August 13th, which makes it likely that not only Diana, but also Virbius–who may have even been her consort, in some respects–was celebrated on this day.
All of this (and more) is covered in the excellent book Roman Religion and the Cult of Diana at Aricia by C. M. C. Green, which I'd highly recommend to anyone who is interested in Artemis or Diana. It gives a fuller and more detailed picture of her cultus, and of the divine character of Diana, than any I've ever seen before. It also documents how thoroughly political the cult of the rex nemorensis ended up becoming in Roman thought, because of the pattern of "the slayer replaces the slain and is slain in turn" reflects the events of the Civil War with Julius Caesar and Pompey Magnus; but, more importantly, Octavian/Augustus' mother, Atia, was from Aricia, and various allusions to the ritual there were made by Octavian's detractors. Octavian himself, after his defeat of Mark Anthony, was said to have brought the remains of Orestes, which were kept at Aricia in Diana's sanctuary at Lake Nemi, to Rome, thus connecting himself very directly to that ritual and site in a variety of respects. I'd highly recommend this book to everyone interested in these subjects!
But, this brings me back to Virbius. There is a series of fragments of a Roman drama called Exceptus by Afranius which gives some possible further insight into Virbius. It seems, based on Green's analysis of these fragments, that drowning played a role in the story of Virbius, and that he (whether the "elder" Virbius or the younger one fathered by Virbius-Hippolytus) was beloved of Diana and had drowned, and that saving others from drowning was considered a "service" to the goddess. This, though, brings up further interesting possibilities.
In the essay I wrote for Bibliotheca Alexandrina's devotional anthology to Artemis, Unbound, I discussed the Oxyrhynchus Papyrus fragment from the reign of Diocletian that mentions Antinous, and how it suggests that the moon goddess Selene desired Antinous for her bridegroom, and was therefore involved in his apotheosis after his drowning in the Nile. Of course, in late antiquity, Selene and Artemis were often syncretized together, despite their differences in myth and the fact that Selene tends to have consorts whereas Artemis is chaste. In the case of Diana, however, there is every evidence to indicate that in the Latin context, Luna was never thought of as a separate goddess to Diana, and the role of chaste huntress and patron of youthful hunters and moon goddess, all of whom had potential lovers, were never differentiated.
This suggests to me that even more than I had thought before, the connection of the Oxyrhynchus Papyrus fragment to the overall cultus of Antinous, and to the cultus of Artemis/Diana in particular, is very essential to consider. If Diana was involved in the deification of Hippolytus-Virbius, and if his death may have taken place by drowning, then the cultus of Antinous and Diana in Lanuvium in their collegium might have been an interesting counterpoint to the cultus in Aricia, with Antinous as the youthful hunter beloved of the goddess who drowned but underwent apotheosis with her assistance instead of Virbius.
Make sense? It does to me, at least!
So, those are some of the things I'm thinking about today, and how this date has all the more relevance for the overall cultus of Antinous. No goddess was more connected to him than Diana, and we can see why that might have been as a result of these persistent associations of detail.
I will be going shortly to Seattle to celebrate this occasion with one of my co-religionists, as well as doing some other important ritual work in preparation for events later this month, so I cannot tarry any longer. But, I hope that those of you who are able to will celebrate Diana's birthday today, and honor Antinous and remember Virbius as well in doing so!
Ave Diana! Ave Virbie! Ave Hercules! Ave Castor et Pollux! Ave Vertumne! Ave Ave Antinoe!