As we roamed out yesterday at various local beauty-spots, two of the three major places we stopped were by the greater waters within Puget Sound/the Salish Sea. One of them overlooks one of the local marinas, and the other had a boat launch for smaller recreational craft which was being used almost continuously to put boats in or take them out of the water. All of this got me into the mode of thinking about today's festivities, the Roman festival of Portunalia in honor of Portunus.
However, as explained here, Portunus was syncretized by many Romans to Palaimon, who is himself syncretized or extremely similar to various others as well. Since Palaimon has become so important to my own perceptions recently, I wanted to figure out some date on which to honor him, and the Portunalia therefore seems like a good one to have chosen–and it had the advantage of being relatively recently following my realizations as well!
It's a perennial theme, so it seems, though not one that is very often portrayed today. Could Percy Jackson be a further example of it? I don't know, to be honest, as I've only seen the film, but considering he starts out with the advantage of being a demigod rather than a mortal who undergoes apotheosis, that changes things considerably…but, back to the theme of the day!
There is a poem for him in The Phillupic Hymns, and Theoi.com's page on him is pretty comprehensive as well. But, a fili can never rest on their laurels, so…
Wave-Rider
Thetis, muse of the sea
will sing her dirge on the receding tide
and Tethys, primordial goddess
sings of her joy as the waves roll in.
They both sing now of the children
who fell from the cliffs in mother's arms.
Boys who were once killed by breathing water
are now gods who swim within it
as if they were running free in the fields,
and dolphins are their dogs and horses.
Some were infants when they took the plunge;
all are now youths, beautiful in body.
When Leukothea was ino, Dionysos' aunt,
Melikertes was tossed from high above
on the Molurian rock, to wash ashore
as a god at Corinth with Sisyphus of shame.
The heroic boy enticed Glaukos to his death:
first eromenos to deify his erastes.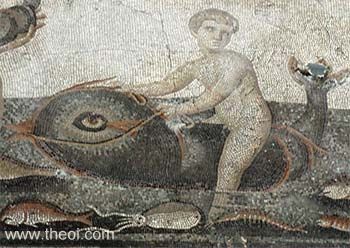 When his cousin Dionysos was the booty of pirates
it was Palaimon who herded the dolphins away,
and the blessings of the Kabeiroi, the Dioskouroi,
and Portunus brought his cousin safe to shore.
Poseidon shook his trident at the Maenad's Master,
and enlisted Palaimon to do his worst with him.
Instead, he was brought to dry land
to be the charioteer with two lions
pulling the vehicle of Mother Cybele
who healed Dionysos and cleansed his madness.
The sea in its endless swell and surge
purged the insanity from his mother Leukothea.
A Spartan boy, son of Satyrion,
met a similar fate in Tarentum of Italy–
Taras was his name, and he would be great
despite never passing through the krypteia…
It was not the wilderness that hid him, made him a man,
it was the rough rocks of the sea that made him a god.
In northern Cambria, the flank of Britannia,
a child born too early went out on the waves
and prospered among seals and sea-pigs
but was brought low by his uncle's divine spear.
And how many others whose tales aren't known
fell into the sea and joined Okeanos' banquet?
May these children of the sea
be kind to all who course across the waves,
favor sailors with skill and bring each ship
into peaceful harbors with calm weather.
Palaimon and Taras, wave-riders both,
and drowned boys become gods–praise to all!
*****
Khaire Palaimon! Khaire Tara! Ave Portune!