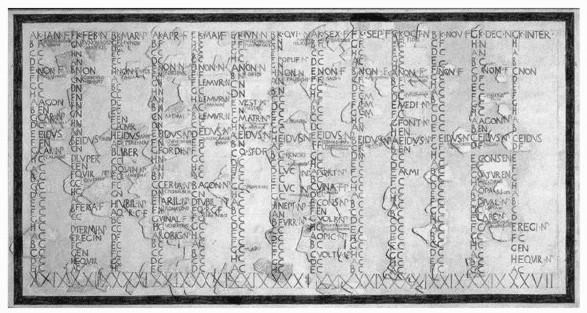 Calendars of festivals and holy-days have always been a localized, and even personalized, phenomenon. (Even medieval Christian monastic communities didn't celebrate every dies sancti that was possible!) As a result, the present can only be considered a guide to various possibilities, rather than a universal statement of what should and should not be a part of one's yearly round of ritual practices and spiritual observances.
Some of the dates here are from traditional Roman (or other) sources, or the direct histories of the individuals involved; some of them have been innovated based on various conjectures, approximations, and creative or intuitive guesses; some of them have even been determined by consultation with oracles (if there's one type of question most appropriate to oracles, it's on how to approach matters of religion!).
A number of the dates and occasions come from Neos Alexandria's calendar; however, unlike Neos Alexandria, ours is not a yearly-changing lunar calendar, but instead a fixed solar calendar. Thus, many of the festivals that have fallen on particular solar dates in the August 2010-July 2011 range have been fixed on those dates for future observance, just to make things easier on my end.
As this calendar is being first compiled in this form a few hours short of the date on which this blog began a year ago, this should give a pretty good idea of a year's worth of festivals. Though I have not by any means managed to observe all of them in the past year, nor have I observed all of them as well and appropriately as I could have (admittedly), nonetheless it is an ideal toward which I aspire in my own personal practice.
There is some debate as to where the year should start in various Antinoan circles: should it be on January 1, as is our conventional secular year, or on March 1, as the Romans preferred, or on Foundation Day (October 30), the day that Antinous' cultus first began…or, some other such date? I leave all those questions aside for the moment, and for the sake of simplicity have given the dates in order from January to December below; one can make one's own determinations on where the "new year" begins during that span of time for one's own purposes.
The dates that are Antinous- and Hadrian-specific are listed below in bold, and the most important of these are in bold and underline–and, there are only really five of those. Dates that have had a write-up in the past year have been furnished with links to the said festivals from the past year; and with luck, the others will get the attention they deserve in the future years of this blog!
CALENDAR OF THE AEDICULA ANTINOI
Any New Moon Men and Antinous
Any Full Moon Endymion and Antinous
JANUARY
1 Asklepios and Antinous; Ianus
6 Feis Tri Druad
8 Pan and Antinous; Dies Divae
11 Festival of Set Killing Apophis; Juturnalia
13 Dies Natalis Aelii Caesaris in 101 CE
21 Ganymede and Antinous
23 Agathos Daimon and Antinous; Festival of Ptah Protecting the Winged Solar Disc
24 Dies Natalis Divi Hadriani Augusti in 76 CE
25 Paganalia/Sementivae–Tellus Mater; Robert Burns Day
26 Paganlia/Sementivae–Ceres
27 Dioskouroi (Polydeukes/Pollux) and Antinous
29 Stella Antinoi/Antinous the Navigator
FEBRUARY
1 Imbolc/Cú Chulainn and Fer Diad
11 Fornacalia
13 Parentalia; Temple of Faunus' Foundation
14 Parentalia
15 Lupercalia; Parentalia
16 Parentalia; Birth of Panprosdexis
17 Quirinalia; Parentalia
18 Parentalia
19 Parentalia
20 Parentalia
21 Feralia; Parentalia
22 Caristia
23 Terminalia
24 Regifugium
25 Adoption of Antoninus Pius by Hadrian in 138 CE
MARCH
2 Birth of Panpsyche, Panhyle, and Paneros
3 Marriage of Paneros and Paneris
5 Trophimoi and the Treískouroi
6 Elpinike, Athenais, and Regillus
7 Memnon; Dies Mortis Antonini Pii in 161 CE
8 Achilles
9 Polydeukion; Polydeukion's Oracle
10 Appia Annia Regilla
11 Echmoun and Antinous; Herodes Attikos
15 Procession of Set
17 Liberalia; Hero-Feast of Cú Chulainn; Birth of Pancrates; Kottytia
19 Quinquatrus/Minerva Capta; Spider Hunt?
21 Apotheosis of Diva Sabina Augusta
22 Dendrophoroi of Attis
23 Death of Attis
24 Dies Sanguinis
25 Attis and Antinous; Hilaria; Middle Irish Queer Women's Day
APRIL
1 Veneralia; Glykonalia
4 Megalensia Prima
5 Megalensia (Agdistis)
6 Megalensia (Attis)
7 Megalensia (Cybele)
8 Megalensia (Taurobolium)
9 Megalensia (Galli/Archigalli)
10 Dies Natalis Magnae Matris/Megalensia
17 Birth of the Space Needle in 1962
21 Megala Antinoeia (Antinous the Lover; Venatio Ursae; Erotikon; Veneralia); Eros and Antinous; Natalis Urbis/Parilia
25 Apis and Antinous; Serapeia; Robigalia
28-30 Floralia
MAY
1 Venatio Apri; Belenus and Antinous; Androklos and Antinous; Beltaine; Floralia
2-3 Floralia
7 Boukoklepteia
10 The Antinoöpolitan Lovers/Dies Sancti Ignoti
Mother's Day Mantinoë's Day
13 Fosterage Day
15 Hermes and Antinous/Antinous Neos Hermes/Festival of Maia
16 Festival of Bes
19 Bendideia
22 Dioskouroi and Antinous; Canis Erigoneius; The Daimon Antinous
Memorial Day Achilleus and Antinous
29 Ambarvalia
JUNE
1 Marguerite Porete Day
9 Hero-Feast of Finn mac Cumhaill; Polydeukion's Oracle
11 Death of Alexander the Great in 323 BCE; Vestalia; Matralia/Leukothea
12 Rhodophoria
14 Naukrateia
17 Hero-Feast of Suibhne Geilt
20 "The Dark Night Is Over"
21 Apollon and Antinous
25 Paying Rent to Manannán Mac Lir; Hero-Feast of Mongán mac Fíachna
27 The Stonewall Riots in 1969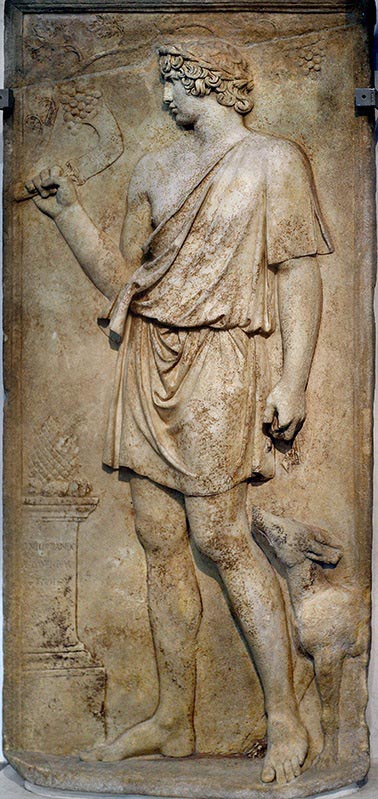 JULY
1 Disciplina
4 Dies Natalis Divae Matidiae Augustae
9 First entry of Hadrian as Emperor into Urbis Romae, 118 CE
10 Dies Mortis Hadriani Augusti
16 Silvanus and Antinous; Antinoan Arbor Day; Hadrian's Wall Day; Iao Sabaoth's Marriage
20 Dies Natalis Alexandri Magni in 356 BCE
21 Confirmation of the Tetrad
23 Poseidon and Antinous
25 Dies Caniculares/Rising of Sirius; Antinous Kynegeticos; Aristaios, Adonis, and Antinous; Hermanubis
31 River Gods and Antinous
AUGUST
1 Dies Natalis Aediculae Antinoi/Bloggi Hujus!; Festival of Lugus/Lugnasad/Iuchar
3 Canem Crucis
11 Accession of Hadrian as Emperor in Nikomedia, 117 CE
13 Natalis Dianae as celebrated in Lanuvium and Rome; Vertumnus and Antinous; Dioskouroi (Kastor/Castor) and Antinous; Temple of Hercules Victor
17 Portunalia/Palaimon
20 Death of the Sacred Band of Thebes in 338 BCE
21 Venatio Leonis; Herakles and Antinous
22 Festival of the Red Lotus; "Flower Heroes" and Antinous
29 Diva Matidia named Augusta in 112 CE
SEPTEMBER
6 Lucius Vitalis (died. c. 128?)
9 Polydeukion's Oracle
19 Eunostos and Antinous; Dies Natalis Antonini Pii, 86 CE
21 Hadrian and Antinous at the Eleusinian Mysteries; Iakkhos and Antinous
23 Bisexual Visibility Day
OCTOBER
11 Coming Out to Ancestors Day/Dies Sanctorum Omnium; National Coming Out Day
12 Death of Matthew Shepard
19 Armilustrium
20 Spirit Day
24 Osiris and Antinous
25 Panthea
26 Ophidia
27 Ananke Antínoou
28 Death of Antinous; Thirds of Samain
29 Antinous in the Underworld Thirds of Samain
30 Foundation Day; Thirds of Samain
31 Antinous Triumphantus; Samain
NOVEMBER
1 Antinous the Liberator; Thirds of Samain
2 Thirds of Samain
3 Thirds of Samain
19 The Visit to the Colossoi of Memnon, Day 1: Disappointment
20 The Visit to the Colossoi of Memnon, Day 2: Consolation; International Transgender Day of Remembrance
21 The Visit to the Colossoi of Memnon, Day 3: Jubilation
Thanksgiving Day Bithynia Day
27 Dies Natalis Antinoi
29 First entry of Hadrian into Oxyrynchus, 130 CE
DECEMBER
1 First entry of Hadrian into Tebtynis, 130 CE; World AIDS Day
3 Bona Dea
5 Faunalia
8 Tiberinalia
9 Polydeukion's Oracle
11 Dies Natalis Vestae in Naukratis
13 Vicennalia of Hadrian in 136 CE
17 Saturnalia
18 Eponalia; Saturnalia
19 Opalia; Saturnalia
20 Saturnalia
21 Dionysos and Antinous/Antinous Epiphanes; Feis Firchoin; Angeronalia; Temple of Hercules Victor; Cerialia; Saturnalia
22 Foundation of Temple of Lares Permarines; Saturnalia
23 Sigillaria; Saturnalia
25 Natalis Solis Invicti
26 Dies Cista Deorum
31 Dies Mortis Aelii Caesaris, 137 CE; Birth of Paneris
You may also wish to consult the